Junior footballers end season on a high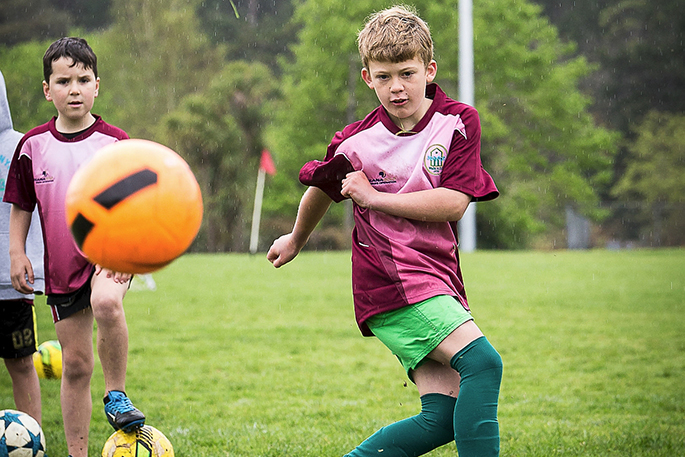 Click the image above to view slideshow
Waihi's youngest footballers ended the first season of Waihi AFC's junior football programme on a high on Sunday, when OceanaGold presented them with their own team shirts.
The presentation took place at Morgan Park during the final session of Waihi AFC junior football's season.
More than 40 children between the ages of four and 12 have donned their boots throughout the year for games, skills drills, and a one-off special coaching session with McDonalds Junior Football Coach of the Year Nic Millichip.
OceanaGold Waihi senior community advisor Kit Wilson says the company is pleased to be able to support local groups in a practical way.
"The Waihi AFC junior football programme is a great local initiative that benefits local children. We are always ready to assist programmes like this, and are proud to be associated with Waihi AFC."
Waihi AFC junior football programme co-organiser Richard James says the inaugural season has been a great success.
"We've been really impressed with the number of children and parents turning up each week. The players' skills have improved dramatically and there's been a whole lot of fun had along the way."
Richard says he and co-organiser Rudy Sas are grateful for the support of OceanaGold and other generous sponsors: Packaworld International, New World Waihi, Waihi RSA, Waihi Lions, Alitech Window Systems, Sas Builders and Kimberley Tool and Design.
"Without such great support from the community, parents and Waihi AFC club members assisting with running coaching drills there's no way we could have run a junior programme this year. It's been absolutely brilliant."
Richard says Waihi AFC will run a junior programme again in 2018, beginning in Term 2. He expects numbers to be even stronger next year and urges all those interested in taking part to follow the Waihi AFC Juniors Facebook page for updates.
More on SunLive...