YSAR searching for new youth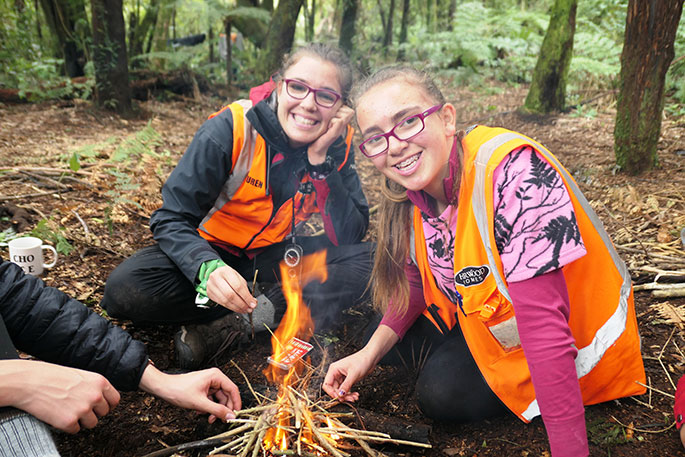 Click the image above to view slideshow
Leadership training, outdoor survival, bush craft and tracking are just some of the skills on offer for teenagers who join a popular Tauranga outdoor education programme.
Tauranga Youth Search and Rescue is inviting Western Bay of Plenty students aged 14-18 to apply for its three-year course that teaches them to find lost or injured people.
Each year YSAR accepts 24 new trainees to participate in a weekly lesson and monthly camps. Students learn to take care of themselves in challenging outdoor environments and eventually aid police and skilled volunteers with official searches.
Along the way, students collect qualifications including a national certificate in emergency management.
Two Otumoetai College students, sisters Lauren, 16, and Kyla McClutchie, 14, joined the programme this year and say YSAR has helped them become stronger – both mentally and physically – and more confident.
"One of the main things it's taught me is perseverance," says Lauren. "You realise how hard you can push yourself and that you can get somewhere as long as you keep on pushing yourself to reach your goals. I want to be a paramedic so YSAR has been really great for learning more about first aid and working as a team."
Before starting with YSAR Kyla would occasionally walk up the Mount but as the year has progressed she says she has become much stronger and fitter.
"On the last exercise I walked for more than six hours, three of which were uphill, and I managed fine. The leaders push us a little further so you get a bit better every time."
Both the young women will be back next year, saying they are eager to keep learning more bush survival skills, search and rescue techniques and to be around a group of like-minded people who have all become friends.
As for being in the same year group as her younger sister, Lauren says it's really cool having her there.
"We've become a lot closer this year and that's because of YSAR. We're often split up into different groups for the exercises but we work things out together at home and can talk things through."
YSAR founder Steve Campbell says the organisation aims to create multi-skilled problem solvers; digital natives who will be invaluable to their communities.
"It's highly likely some of these students will save lives. They'll be the search and rescue practitioners of the future, integrating innovation and technology into the sector along with them.
"The programme is also life-changing for the participants. We take a real cross section of students and what they all have in common is huge potential, and we provide a platform to grow."
Steve says the programme started in 2008 in response to an aging search and rescue volunteer base and has surpassed all expectations and attracted interest from groups around New Zealand.
An Auckland group is gearing up to start in February.
The three-year programme also includes training in the latest innovative technology for field exercises, such as specialist radios, digital communications equipment and drones, which can lead students into a range of STEM career pathways, says Steve.
He credits much of the programme's success to the leadership and knowledge of trainers who include people with military and medical backgrounds, outdoor education specialists, police officers and firefighters.
Applications are now open for the 2018 intake. For more information about YSAR and application forms, go to www.ysar.org.nz
More on SunLive...