Eyeball tattoo warning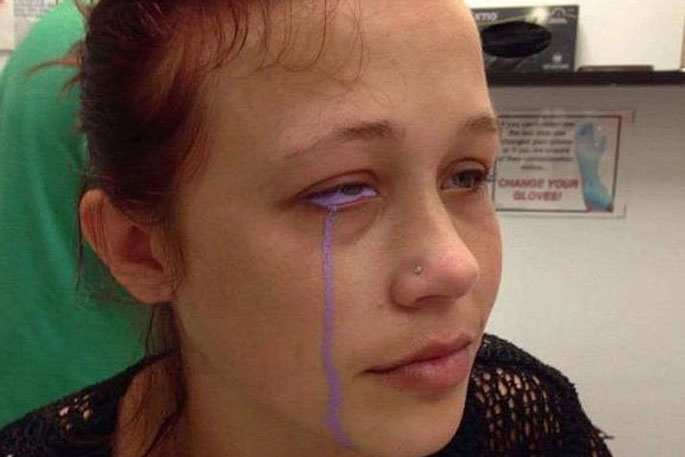 Click the image above to view slideshow
Specialists are warning people who get eyeball tattoos they risk losing their sight.
Auckland ophthalmologist Zak Prime earlier this year treated the first patients in this country to have complications from the procedure.
"It definitely was a bit of a shock. It's definitely not something I've ever seen before or anyone of the other doctors at the eye clinic had seen before.
"When somebody comes in with almost bright pink eyes, it's definitely different."
The procedure involves injecting diluted tattoo ink under the layers of skin on the white of the eye.
Last week, Canadian model Catt Gallinger caused a media storm when she went public about the dangers of scleral tattooing after temporarily losing the sight in one eye.
She posted images on social media of the swollen, painful eye and posted updates about the leakage of ink in an attempt to "raise awareness and to educate".
The first of the Auckland patients Dr Prime treated was a 22-year-old woman whose eyes had begun to swell to the point where she couldn't close them after being injected with a shocking-pink tattoo ink.
In the same week, he saw a 27-year-old man with ink leakage and subconjunctival bleeding - when blood vessels haemorrhage under the clear surface of the eye.
Both patients were successfully treated.
Zak says he's not about to tell people what to do or not do with their bodies, but that they needed to be aware of the risks.
"At least do some research about it and some of the complications.
"This procedure is more common in America and Australia and there have been a number of cases where needles have gone into the eye inadvertently ... and people have lost their eyes as a result of it."
Disturbingly, Zak says, one of the patients was told not to go to hospital if they experienced any problems.
American body modification artist Luna Cobra invented scleral tattooing about 10 years ago.
His name was linked to the Auckland cases, but he says he has not been in New Zealand for years and it was probably someone leveraging off his reputation.
Catt Gallinger said her eye had been painful and her vision blurred Photo: Supplied / Catt Gallinger
He now wanted scleral tattooing banned and had contacted health authorities in Australia and New Zealand to tell them so.
"I explained everything about this. I sent them documents, I sent them photos - and they all tell me the same thing.
"That they really need someone to be very damaged or die before anything can happen with legislation."
Australian artist Brendan Russell, or Bslice, is active in New Zealand but says the Aucklanders were not his clients.
Brendan says he did not favour banning scleral tattooing outright, but agreed it needed more rigorous regulation.
Luna Cobra says cowboy practitioners were the biggest risk, rather than the cleanliness of the tattooing premises or the tools being used.
"I've been doing eyeballs for just over 10 years but I've been practising all these other various surgical body arts for over 20 years. That's the difference.
"Most of the people operating now ... never attended a human anatomy course at a university or read a medical book or worked on a cadaver."
New Zealand Association of Optometrists spokesperson Andrew Sangster says the practice had a long list of potential side effects.
"There's cases where people have had prolonged headaches afterwards, that they have significant light sensitivity, that they're tears are discoloured because of the dye and there was one case I read about where they had to remove an eye because of intractable pain.
"I would probably caution people if they are thinking about getting it done to think again because you only get one set of eyes."
Auckland City Council says its current bylaw covering tattooing was not intended to include scleral tattooing, because it was unknown here in 2013.
Auckland District Health Board was unable to say whether an approach had been made to it about the practice, but said the Royal Australian and New Zealand College of Ophthalmology had issued a warning about scleral tattooing.
The college unsuccessfully lobbied for tighter regulation in New South Wales last year which would have only allowed registered medical practitioners to carry out the procedure.
More on SunLive...