Historic Village about to transform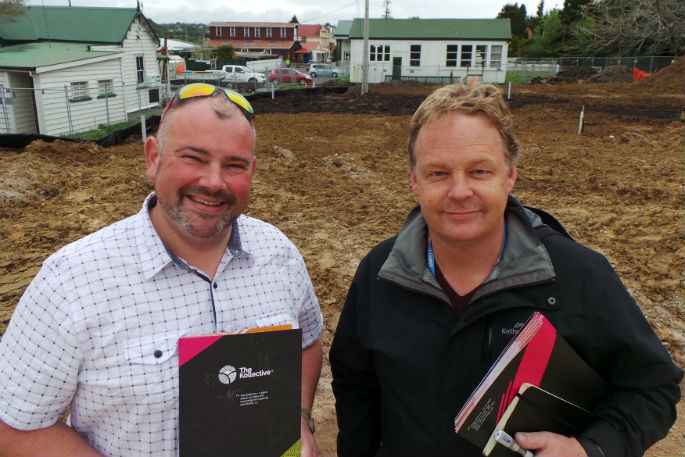 Click the image above to view slideshow
Tauranga's Historic Village on 17th Avenue is undergoing a transformation that is only going to be accelerated with the construction and completion of its new neighbour The Kollective on the former village green.
Sometime next year the barn-styled Kollective is expected to open and provide workspace for about 150 people, mostly from the community service sector.
Kollective manager Gordy Lockhart says as well as providing the interior working spaces, the building faces the village with a 20m by 6m deck 6m with access to three-phase power.
The deck by day, stage by night feature links the building to the village and provides a new event space.
"The idea is that over time this green space here at the front between Detour Theatre and the back of The Kollective will be used for events, festivals, markets, and more.
"And that involves very close collaboration between the village and the collective. The idea is to promote and make sure we use the village and The Kollective as one in a lot of respects."
Fifty per cent of the village tenants are community groups and not-for-profits, says village manager Blair Graham.
"Those groups do amazing things in a community that's the fastest growing in the country and will be for the next 15 years," says Blair. "And obviously what comes of that growth is social issues - and who deals with those social issues?
"It's community groups, not-for-profits essentially.
"What we have got down here is an amazing opportunity where we have already got 57 tenants, 26 community groups and they are all based here together. They bump into each other, talk about the wider problems, share information.
"So it's a collaborative working space aimed specifically at those markets as well. It just adds to what is already going on down here essentially.
"And it's becoming a very busy place."
Early critics of the TECT project complained the village was losing its village green. Blair says they have actually gained time and a bit of area. The former village green was a swamp and unavailable for part of the year. The newly contoured area between The Kollective and the village is going to be available year round, and may be a bit larger as well.
The expansion comes at a time when business at the village is steadily increasing. A gate counter logged 149,000 people entering the village over the year from August 2015 to 2016. The most recent figure is 179,000 for a year when several event spaces were out of action.
The visitors differ according to time of day. There are the nine to fivers, the 6-10pm evening class attendees - and the virtual Pokemon players tripping the security net in the small hours chasing Pikachu.
More on SunLive...