Rubbish savings to be made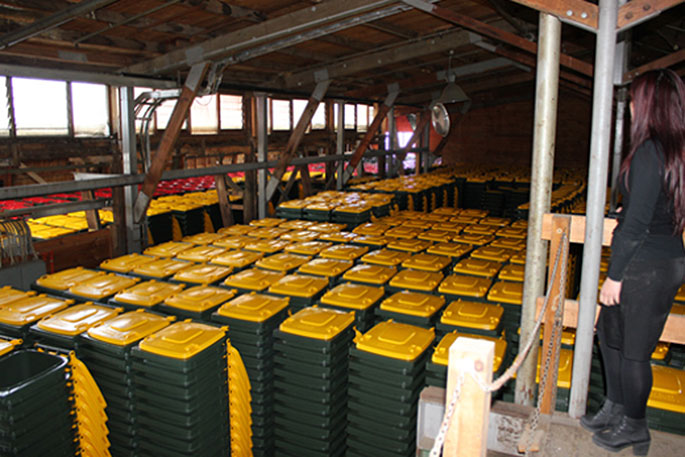 Moving to a city council controlled multi-bin rubbish collection system will save residents $80-$90 a year city councillors have been told.
The information was presented at a workshop discussion on kerbside recycling and waste modelling held last week.
Strategic business manager Jeremy Boase says the figures come from the economic modelling, based on information gathered over the last year.
This included interviews with residents rubbish collectors and by physically going through samplings of rubbish bags during each of the four season, to count what is being tossed.
"What goes in a green bin or bag, about 70 per cent could be diverted in a different world," says Jeremy.
Rubbish collection under the existing market led collection is costing residents about $329 a year, or about $400 if the cost of dropping green waste or rubbish at transfer stations is added.
The indicative modelling shows a multi-bin council controlled rubbish collection will cost residents $235-$245 per household. That's without including council administration costs.
With a civic-led rubbish collection service the average resident will be paying less and the city will be diverting more rubbish from landfill than at present.
The cost per tonne of what is being diverted to landfill is also expected to come down over time, says Jeremy.
The number of bins in use depends on how the organics are treated; windrows, anaerobic digestion or in-vessel composting.
Mixing organic food waste and green waste in the same bin will require in-vessel composting. There's the option of starting with a three-bin system and after five years separating the green waste and organics into separate bins.
"You can use more effective treatment processes if you strip the green waste from the compost. You can use the anaerobic digestion which is more effective for the food waste."
The timing is looking at introducing the three-bin solution in the 2020/21 year and introducing the fourth bin for food waste a couple years later when the infrastructure has been developed, says Jeremy.
Speaking after last week's meeting, committee chairman Steve Morris says $238 per property is almost a 10 per cent rates rise if council has to pay for it.
A formal paper will be presented to the council next month with some recommendations to see if the proposal goes into the Long Term Plan.
More on SunLive...