The Bicycle Soldier from Tauranga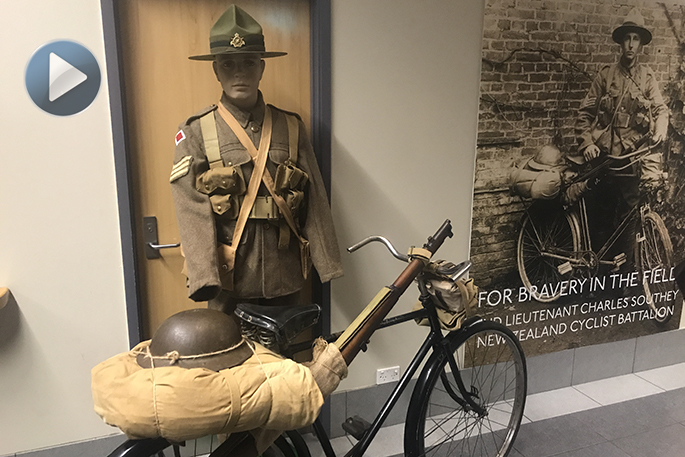 Click the image above to watch the video
The Graham Young Youth Theatre was packed on Thursday evening for a panel discussion about the Battle of Passchendaele.
Approximately 900 New Zealand sons died on a single day, on October 12, 1917. A century on, many New Zealanders know nothing of what has been termed 'our darkest hour'.
The Battle of Passchendaele was New Zealand's greatest loss of men in any battle, in any war.
Dr Cliff Simons, Lieutenant Colonel, New Zealand Defence Force, led the discussion. Tauranga born historian and author of New Zealand and the First World War, Dr Damien Fenton set out the events of the Battle of Passchendaele.
New Zealanders joined the battle proper on October 4, 1917, in an attack on Gravenstafel Spur. Considered a success the NZ division took their objectives and captured 1000 German prisoners. It was not without cost as 320 New Zealanders were killed, including two Tauranga men.
Following their success on October 4, the New Zealanders were again called on. The attack on October 12 began at 5.25am. Dawn broke over a scene of carnage.
In four hours of determined, bitter, frenzied fighting at Passchendaele, 60 percent of the two brigades that had started the attack were casualties. On that single day of battle NZ troops suffered more than 2700 casualties; 45 officers and 800 men were killed. Hundreds of mortally wounded men were left out in no man's land; they waited to die a lonely death.
At the panel discussion event on Thursday night, the college theatre foyer featured large displays showcasing key elements of Tauranga soldier's involvement at Passchendaele, photos and letters, and five replica military medals awarded to Second Lieutenant Charles 'Carl' Southey 'For Bravery in the Field' – the Military Cross, Military Medal, British War Medal, Victory Medal and New Zealand Service Medal. A life size photograph of Charles Southey, in the NZ Cyclist Battalion as well as a bicycle complete with mannequin was also displayed.
Ray Waru has written the following about Charles Southey for Archives NZ:
The Allied offensive called the Third Battle of Ypres began on the last day of July in 1917. Its objective was to smash through the German lines, take the high ground around the village of Passchendaele, and ultimately drive on to destroy German U-boat pens on the Belgian coast.
Charles Carrington Southey, known to his family as Carl, was born on July 18 1889 in Hawera. At the age of nine his family moved to Tauranga where his father, Herbert, had purchased land at Gate Pa.
Herbert was a prominent member of the community who served on the County Council for many years. Carl attended Greerton Primary School and became a pupil teacher at Tauranga Primary.
At the end of each year he would cycle to Paeroa to sit his examinations. He later attended Auckland's Training College and qualified as a teacher.
In August 1914, Carl was sole charge teacher at Paengaroa School. It is clear from the testimonial written on his leaving to become a teacher, and displayed in the Graham Young Youth Theatre foyer that he was popular with both students and parents.
Carls's first attempt to enlist was on October 13, 1914. Much to his frustration, he was judge unfit for service due to catarrhal weakness, a nasal problem which in chronic cases can cause a loss of taste, hearing and sight. However by March 1916 his condition appears to have improved or the shortage of eligible men meant that the army could no longer turn him away.
Briefly posted to the Auckland Mounted Rifles, Carl was transferred to the NZ Cyclist Corps in April 1916. The Cyclist Corps was formed in March of that year, and he embarked on May 6 with the first Cyclist Corps unit to leave NZ shores.
On arrival in France the Cycle Company was used for all kinds of work. Indeed everything except its intended role as a mobile reconnaissance unit.
Nonetheless, in 1917, the Cyclists did see some action, building a track across no man's land to newly-captured German trenches taken by the infantry at the Battle of Messines in June.
In October the Cycle Company laid and maintained signal cabling to the front line during the Battles of Broodseinde and Passchendaele. It was at Passchendaele that Charles 'Carl' Southey won his Military Medal. Although the exact circumstances are unknown his citation reads "For bravery in the field (Passchendaele, October 1917)'.
After the war Charles Southey returned to his position as headmaster of Paengaroa School. In the early 1930's he moved to become headmaster of Whakatane School.
In 1942 he became headmaster of Tauranga District high School and in 1946 was the first headmaster of the newly established secondary school, Tauranga College – later to become the Tauranga Boys' College.
During the Second World War Charles was seconded as temporary Captain of the Tauranga District High School Cadets. He retired from teaching in 1952. A keen historian, he was actively involved in the Tauranga Historical Society and wrote many articles on the history of Tauranga. The Southey Field was named after him.
The audience of nearly 200 people gathered on Thursday night had amongst it those with family connections to the Battle of Passchendaele. Questions followed the presentation by Dr Damien Fenton, and the evening began and ended with cadets from the 16 Squadron ATC Tauranga unit presenting and carrying flags.
As well as the panel discussion, there are further events planned to commemorate the 100 year anniversary of WW1 Battle of Passchendaele.
From Friday, 2September 29 to Thursday, November 30 stop by the Tauranga central library and learn about Charles Southey who was awarded a Military Medal. For Bravery in the Field explores the experiences of 2nd Lieutenant Southey, who returned to Tauranga after the war. He went on to make a significant contribution to his home town, including becoming headmaster of Tauranga District High School in 1942.
Between Friday October 6 and Thursday November 16 experience the exhibition I Died in Hell: From Tauranga to the Trenches, which will be on display at three different locations across the city. The exhibition tells the story of Carl Jordan through his own words and those of his friends, and includes excerpts from personal letters, as well as WW1 film footage.
On Sunday, October 8, all children of WW1 veterans can take part in the Children of WW1 Veterans Afternoon Tea at the Mount Maunganui RSA to remember those who served during the war.
On Saturday, October 14, join the Hauraki Patriots at the Passchendaele Memorial Service at the Mount Maunganui Cenotaph. The service will include a Parade Guard and Flag Party followed by an address, wreath laying, the Ode to the Fallen and the Last Post.
The First World War was one of the most significant events of the 20th century, and had a deep and lingering impact on New Zealand society. Ten percent of our population of one million served overseas, of which more than 18,000 died and over 40,000 were wounded. Nearly every New Zealand family was affected.
More on SunLive...