Good deed pays off for shopper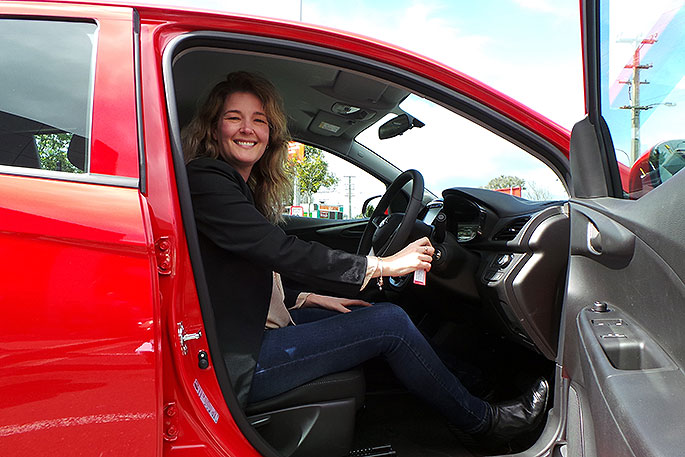 A Brookfield woman is proving that good karma really does come back around.
Lianne Bateman won a brand new 2017 Holden Spark, as part of a store-wide competition at Brookfield New World.
She says she's overwhelmed at the win.
"I'm stoked and stunned – you could've knocked me over with a feather when I found out," says Lianne.
"I've never won anything like this so I'm really excited. You kind of talk about it and you joke about it.
"We saw it and we were like oh that would be a really cool car for our daughter Ella and then boom I get the phone call I was like really? In fact I think I screamed.
"I certainly went and bought a lotto ticket that week – but I didn't win the $500,000 that was won here, sadly."
Lianne is a frequent customer at Brookfield New World and a well-known face in the community.
Last year she made headlines, after she selflessly offered to donate one of her own kidneys to Frankie Eggleston - a woman who works at her local café.
"It was just a little thing that we did and it then all of a sudden it blew up, it even ended up in Australian news."
Lianne was joined today at the official handover the new vehicle by her partner Neil, sister-in-law Belinda, her friend Bronwyn and her husband, her dog Cocoa and her two daughters – one of who will get to sit behind the wheel of the brand new vehicle.
"My daughter has just got her learners license so she's going to have her first driving lesson in it."
Brookfield New World store manager Paul Deere says the car couldn't have gone to a more deserving winner.
"It's great that this vehicle has gone out to someone who is a loyal customer of ours.
"Lianne is a super deserving winner and someone who everyone in the store recognises."
Lianne says her first drive will be to Papamoa later today, where she will buy herself some new shoes.
More on SunLive...