Greerton in full bloom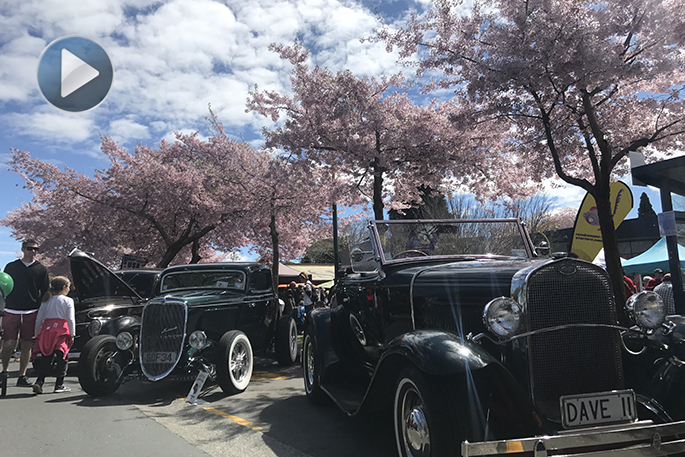 Click the image above to watch the video
The Greerton Village Cherry Blossom Festival attracted thousands of people and more than 100 classic cars to Greerton on Saturday.
Greerton Village Mainstreet manager Sally Benning says the event has been growing in popularity each year.
"It was a fantastic day – probably the best we've ever had," she says. "We had the most cars we ever had – over 130, I believe. I'm not sure how many people were here, but last year the estimate was 5000, and there would have easily been more than that this time."
There was plenty to see and do at the festival, which is always a boon to Greerton commerce.
"I didn't get to talk to a lot of businesses yesterday, but those I did speak to said they had a very good day," says Sally.
And of course, the cherry blossom trees were out in full force, showering festival-goers in petals with each fresh burst of wind.
"They came out early this year, and we were a bit concerned they would be gone. But they stuck around, fortunately, and the weather was good. Almost too hot in fact!"
Among the visitors was Tauranga City councillor Bill Grainger, who was there with his own classic car, and even had to step in at the last minute as an auctioneer.
"I think this is the best turnout of both vehicles and people we've had," says Bill. "I wasn't too sure about the weather earlier in the week, but the cherry blossoms were out and the people came in droves."
Next on the Greerton calendar is a vintage and retro fair in November.
"This is a new initiative," says Sally. "We were going to run it in March, but it had to be cancelled due to the weather. It will be vintage cars and high teas with posh china, along with stallholders selling a vast array of vintage and retro items."
Greerton Village Mainstreet manager Sally Benning.
Tauranga City councillor Bill Grainger and his car.
Tauranga MP Simon Bridges with wife Natalie and children Emlyn and Harry enjoying a family day out.
Olivia Stewart, 9, and Summer Stowe, 8, at the festival.
More on SunLive...