Freshening up the rural sign posts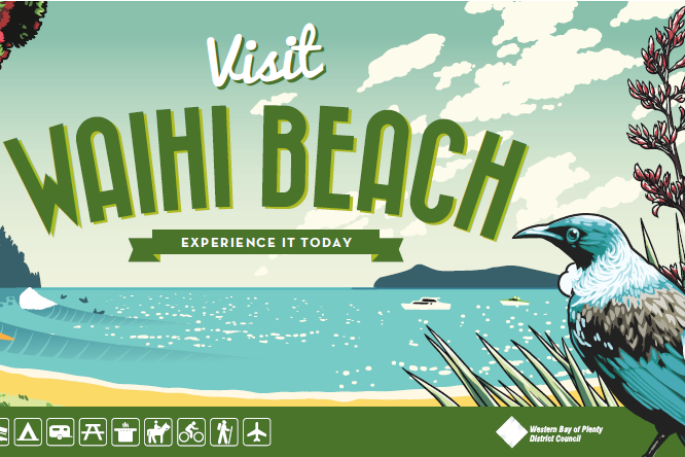 Fresh roadside billboards for Waihi Beach and Omokoroa will pop up on State Highway 2 over the next couple of weeks.
The signs, created by Western Bay of Plenty District Council, reflect Council's `Portraits of Our Place' themes and capture the essence of each community: Omokoroa - `Peninsula Paradise' and Waihi Beach - `Experience it today'.
Community leaders say the signs are a refreshing and welcome change.
Omokoroa Community Board chair Murray Grainger says the previous sign, which was 10 years old, has been in need of a fresh face for some time.
"The designers have done us proud with the new sign. It not only captures Omokoroa but aligns our community with the Western Bay portrait images and themes," says Murray.
"It's great to see Optimist yachts included – the Omokoroa Boat Club uses them to train our future generation of world class sailors- and I am particularly impressed with the way the Omokoroa lizard motif has been incorporated in the clouds.''
Not far away in Waihi Beach, Community Board chair Allan Sole is equally as impressed with the new sign for his neck of the woods.
"It depicts what is special about Waihi Beach - a modern town that has retained its feel and values of earlier days. This is a seaside town where you can have a coffee and bite to eat, shop, walk or cycle the streets, tracks and trails, surf the waves or the internet and meet up with friends.''
More on SunLive...