Do you know this artist?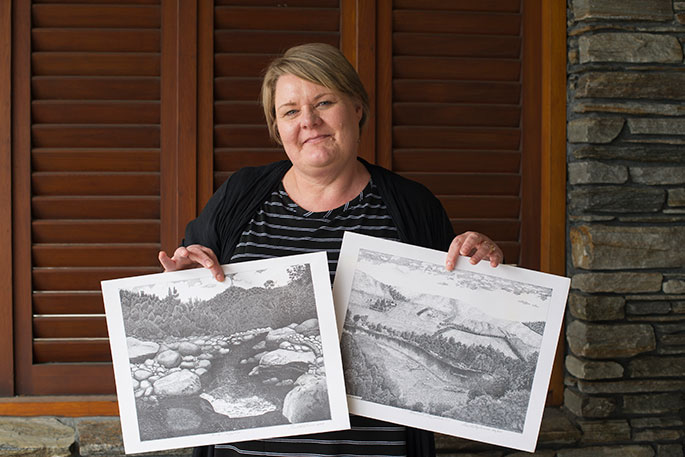 Hearing Support Bay of Plenty has a mystery on its hands.
A former Hearing Association Tauranga (as it used to be called) committee member has turned up an old suitcase full of pen and ink prints that were meant to be sold as a fundraiser but it never went ahead.
The limited edition prints, dated 1983, are by an artist named George W Stephenson and feature two scenes in Coroglen on the Coromandel Peninsula. One is called 'Bush River' and the other 'Beautiful New Zealand'.
"They were going to sell them as fundraiser, but it never went ahead so the committee members at the time put the prints, 275 of each one, in a case in storage. About a week ago one of the committee members came in with the suitcase and told me the story because he was moving house and found them," says Hearing Support BOP manager Jo Sykes.
Jo has tried to find out who the artist, George Stephenson is, but no one, including the Tauranga Society of Artists, has heard of him.
"It would be good to know some history. Who is the artist? Is he still around? Perhaps he has family here who would like to have a copy. Also, if there is interest in the work we may still be able to sell them. They're actually pretty good," says Jo.
The first 10 of each print are missing. Each print is numbered and signed and individually wrapped in plastic with a sticker on the outside that says 'Geo Stephenson'.
On further investigation Jo discovered the Alexander Turnbull Library, the National Library of New Zealand, holds two copies of each of the prints, which were priced at $20 each or two for $30 at the time.
Dr Oliver Stead, curator of drawings, paintings and prints at the library, says the prints were not expensively printed but the artist was very skilful and the images are "lovely".
There is a reference in the National Library listing to the 'Sunburst Community' in Coroglen which George Stephenson may have been connected with.
In the mid-1970s the government allowed ohu (a Maori word for community work group) to set up in rural areas of New Zealand to assist people in becoming self-sufficient from the land and giving people a chance to develop alternative social models.
Sunburst was the first ohu established in 1974 by a group of friends who had lived together in Auckland and the Hokianga. The land lacked vehicle access and residents rigged up a flying fox to transport supplies across the Rangihau River until a neighbouring farmer bulldozed a track for them. Sunburst lasted about six years.
If you have any information about George Stephenson please contact Jo Sykes on 07 578 6476.
More on SunLive...