Life saving device for Papamoa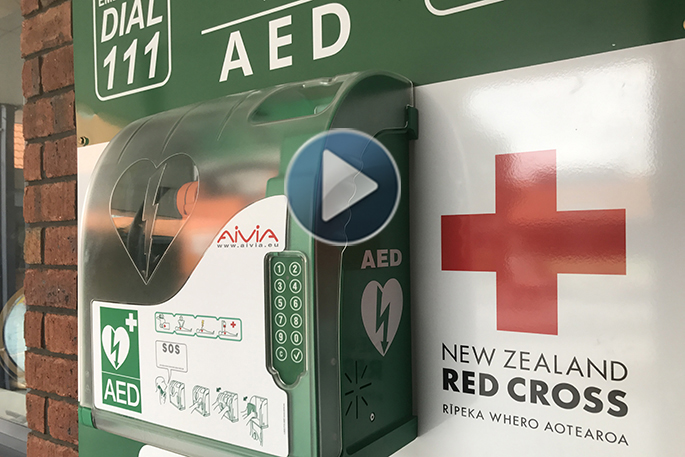 Click the image above to watch the video
A new automated external defibrillator – AED - has been installed at Tahatai Coast School on Evans Road, Papamoa.
Located near the school library in a sheltered and secured cabinet with secured access, the Powerheart G5 AED is available for the Papamoa community to use when required.
"One of the reasons we decided to install it was because a staff member noted there were AEDs in the Bayfair and Domain Road area but none in between," says Parent Teacher Association member Kim Schibli. "With time being so critical for heart attacks, it just seemed a really important thing for our school to do for our community."
The community AED is registered with 111, who ensure it is able to be used when needed.
"It's going to be accessible to our community 24/7," says Kim. "If they call 111, the operator will direct them here and also give them a PIN number so they can enter it to access the defibrillator and take it away to the patient. It's going to be an amazing asset for our community."
The AED unit cost $5,244. Defibrillation is a process in which a defibrillator gives an electronic shock to the heart when in cardiac arrest. The public access defibrillation – PAD – programmes aim to provide 24/7 AED access in public places. Fully automatic, a voice prompt from the unit instructs the user every step of the way, providing real-time CPR feedback. The Powerheart G5 AED is particularly suited for community use as it analyses the casualty, automatically determining and delivering the amount of energy required to successfully defibrillate. A large adult would typically receive a shock with more energy than a small child.
Dawn Braim from NZ Red Cross, Simon Martin from Harcourts, Tahatai Coast School Principal Matt Skilton, and PTA member Kim Schibli (all standing). Sitting are Hiba Khan (10), Blanca Cross (10), Lexi Cramond (10), Visaya Murray (8) – back row. Mya Rogoz (10), Bodie Tyler (8) and Zach Davie (10) – front row.
"One of our PTA members is a real estate agent for Harcourts and pointed us in the direction of the Harcourts Foundation," says Kim. "They generously donated the entire amount for the community defibrillator to be installed."
"Tahatai Coast School wants to be seen as a leader in the community and a resource for the community," says Tahatai Coast School Principal Matt Skilton. "Having equipment like this for the wider community as well as our own school has huge value for Papamoa in general."
"I'd like to take this opportunity to acknowledge Simon Martin from Harcourts," says Tahatai Coast School student council member Bianca Cross. "Having this AED located in our school is not only a big benefit for our students and staff but also the Tahatai Coast School and the wider Papamoa community as well. On behalf of the students and our school I'd like to thank you for this initiative and for generously funding this community resource. We hope that we'll never have to actually use it of course."
A few months ago, Harcourts managing director Simon Martin heard about the AEDs, and the apps available to download onto mobile phones.
"I thought that was a good idea," says Simon. "One thing I noticed, was that a lot of the AEDs, you couldn't access afterhours, which defeats the purpose. Then I got the application through the Foundation, and looked at it and opened my app and could see where the defibrillators were located. There was nothing in this area. And I could see that if it was coded, it could be accessible to the whole community 24 hours a day. I thought we've got to get involved with this."
The AED Locations App shows no defibrillator units were located between Bayfair and Domain Road, prior to the AED installed at Tahatai Coast School.
The school caretaker contacted Guild and Spence, who provide electrical services for the school, and they installed it free-of-charge.
"It's continually charged," says Guild and Spence's Jamie Mardon. "It's a battery powered unit and has a lock on it. Once the PIN number is entered in, it releases the door."
The cabinet that stores the AED is robust, temperature controlled to prevent the pads freezing and has LED lighting to provide illumination at night.
The AED is particularly well suited for community use as it provides real-time CPR feedback and user-paced instructions. Even first-time users can successfully use the fully automatic defibrillators.
The NZ Red Cross believe that AEDs increase the chances of survival for people who have heart-related emergencies. According to the Red Cross, a New Zealander dies from heart disease every 90 minutes. This equals 16 deaths per day, and many of these deaths are believed to be premature and preventable.
A victim's chance of survival decreases by 7-10 percent for every minute that passes without defibrillation.
AEDs are placed in areas where members of the community gather such as around libraries, schools, shops and sports grounds. Providing 24/7 AED access in public places increases the chances of survival for people who have heart-related emergencies. For every minute defibrillation is delayed, the chances of survival drops by around 10 per cent.
First Aid Training courses are provided at the Western Bay of Plenty Red Cross training rooms in Greerton. The NZ Red Cross also runs a training session in the community with every AED station purchased. The AED training course is also available online and covers everything anyone needs to know about using an AED.
A NZ Red Cross First Aid and Emergency App is available for free download, and is designed to give people lifesaving skills at their fingertips. The free app features simple, easy advice on everyday first aid scenarios, and step-by-step instructions on what to during an emergency. This can be downloaded from www.redcross.org.nz/first-aid-app
A NZ Red Cross First Aid and Emergency App is available for download.
Red Cross also provide a free downloadable Hazard App, which is a tool for receiving disaster alerts and helping people get through emergencies such as floods, earthquakes, tsuanami, fire, weather and biosecurity risks. This can be downloaded from www.redcross.org.nz/hazard-app
The Powerheart AEDs are available for sale in New Zealand exclusively by New Zealand Red Cross. Every purchase is supported by the Red Cross AED management programme to help ensure each AED is always RescueReady. Contact 0800 AED AID or email products@redcross.org.nz for more information.
More on SunLive...