Reuniting rescuers and patients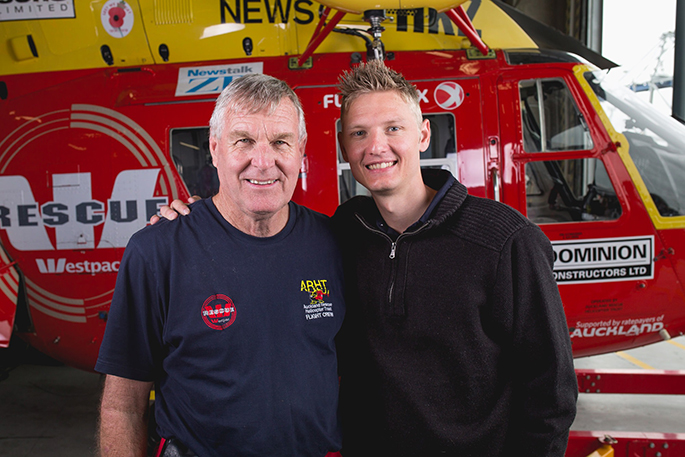 Click the image above to view slideshow
Former patients of Auckland and Coromandel's Westpac rescue helicopter service will get another chance to meet those who helped them in their time of need when the trust holds its second Rescue Reunion event on November 5.
The 2015 Rescue Reunion was well received by the Greater Auckland, Gulf Island and Thames/Coromandel communities, with a full house attending.
Among those first attendees was Drury resident Steven Cunha. On February 17, 2013, Steven was participating in a local motocross event when his bike fell short of a jump.
"My bike wheel clipped the back of the landing but didn't quite make it, sending me tumbling to the ground 70 feet below. I hit the ground first with the bike landing on top of me, completely separating my shoulder joint."
Steven also suffered multiple broken ribs, punctured lungs, a lacerated liver, and extensive internal bleeding.
"The most severe injury though was to the left side of my brain. It left me unconscious on the ground."
Four and a half years on from the accident, Steven is doing as well as expected.
"I'm trying to get my life back together and on track. My recovery is an ongoing thing but, with time, I am improving."
Steven says meeting and chatting with the crew who helped save his life was a highlight of the Rescue Reunion.
"It was good hearing from others too who had also needed the service," he says.
Intensive Care Paramedic Rob Gemmell, who also attended the first event, says the Rescue Reunion provides an opportunity to close the loop between crew and patient.
"The Rescue Reunion allows the crew to see the full outcome and effect our job has on the lives we save," says Rob. "And, in a therapeutic sense, provides some closure for the patient."
Hillsborough's Doreen Nuttall, who was winched off a boat on the Manukau Harbour because she was severely ill, was one of the patients Rob was able to catch up with. Rob, who is on duty on the day of the second event, is looking forward to attending again, provided he isn't tasked to a mission.
"Reunions with patients don't happen very often," says event organiser Kerrie Spicer. "Often the last crew see of a patient is when they're passed into the care of the hospital."
Kerrie says plans for this year's event are coming together nicely.
"The afternoon will include a light lunch, followed by talks from past patients, rescue crew demonstrations, and other fun activities."
Kerrie says it's important that former patients contact her to reserve their place.
"We'd love to accommodate the thousands of patients we've helped over the years but due to our limited hangar space, and in the interest of safety, we can only welcome a strictly limited number of guests. Attendance will be on a first in/first served basis and guests must RSVP by Friday October 20 to reserve their place and for catering purposes."
For more information and/or to register, please contact Kerrie on 09 950 7222 or email kerrie@arht.org.nz
More on SunLive...