Stunning sunrise captured on camera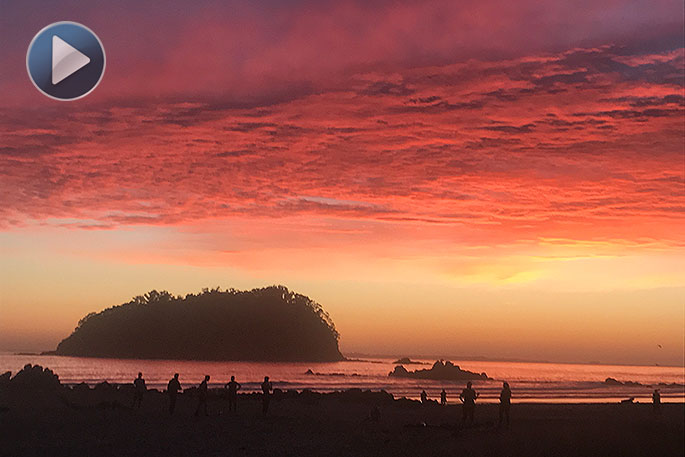 Click the image above to watch the video
The weather forecast today is for cloud increasing, with a few showers from the afternoon. Also northerlies.
It's a two-clothing layer day today with a high of 16 and an overnight low of 9 degrees.
High tide is at 2.20pm and low tide is at 8.30pm. Sea temperature is 15 degrees. There's an average sea swell of about .8m and sunset tonight is at 7.13pm.
If you're going fishing today the best fish bite time websites suggest fishing between 7 and 9pm.
This day in NZ history in 1862 was the first professional opera performance in New Zealand which was put on in Dunedin by members of the English Opera Troupe and the Royal Princess Theatre Company.
This day in world history, in 1493 Christopher Columbus left Cadiz, Spain, on his second voyage to the new world.
In 1789 on this day the U.S. Congress voted to create a U.S. army.
In 1932 a five-day work week was established for General Motors workers.
In 2008 the Dow Jones Industrial Average plummeted 777.68 points in the wake of Lehman Brothers and Washington Mutual bankruptcies, the largest single-day point loss in Wall Street history.
In 2009 an 8.1 earthquake caused a tidal wave that claimed 189 lives in Samoa, American Samoa, and Tonga.
Our quote for today is from Abraham Lincoln who reportedly said "In the end, it's not the years in your life that count. It's the life in your years."
To check out activities in the Bay of Plenty, please go to our What's on page.
Have a great day!
More on SunLive...