Alien Weaponry aimed at Europe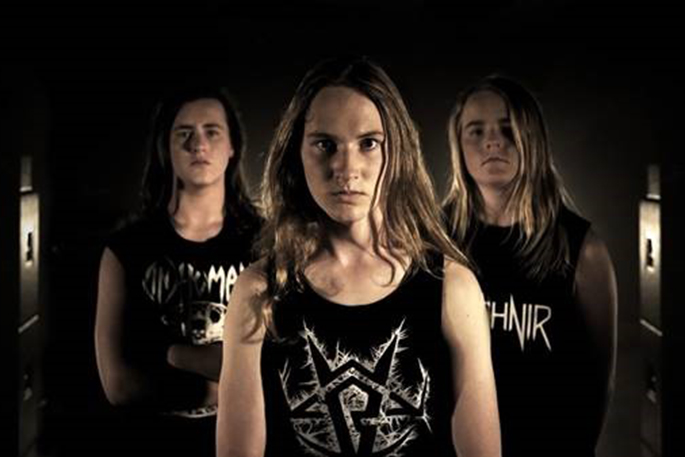 Kiwi thrash metal band Alien Weaponry is on target to achieve a goal set when its members were just 12 and 14 years old – playing major European festivals before they are out of their teens.
The three high school students, from the tiny town of Waipu in Northland, have just signed a three-year management contract with Berlin based music agency Das Maschine to represent them in Europe and other parts of the world.
The deal came about after the band was approached directly by one festival, which prompted them to begin exploring options in earnest for making a European festival tour feasible.
"The biggest hurdle for us in New Zealand is the on the ground communication in Europe," says Niel de Jong (aka Hammerhead), who manages the band in NZ and Australia. "So we began looking around for who could help us promote the band over there and add more dates to the trip."
Das Maschine has two decades of music management and a wealth of contacts and expertise behind them. Co-founder Nico Meckelnburg has worked with European metal giants Kreator and Amon Amarth and, based in Germany (arguably the centre of the global heavy metal scene), the agency is ideally placed to elevate Alien Weaponry onto the international stage.
"We have had great feedback from promoters so far," says Nico. "And we are confident we can add a significant number of shows to the dates already confirmed.
"We truly believe that Alien Weaponry has the potential to have a great impact on the worldwide music scene," adds Oliver Kraemer, also from Das Maschine. "Not only do they deliver great songs and an engaging live performance, but embracing their Maori whakapapa and making their culture part of their act makes them stand out among other bands – both inside and outside their genre."
Alien Weaponry is currently in the middle of a NZ tour to promote their third single, Ru Ana Te Whenua (The Earth Trembles), which has had more than 815,000 views on Facebook and 55,000 views on YouTube and is being played on radio stations around the world.
In addition to tour dates in Hamilton (Sept 29), Auckland (Sept 30), Christchurch (Oct 6) and Nelson (Oct 7), they will be performing at the NZ Tattoo & Arts Festival on November 25 and Soundsplash in January 2018. They are also finalists in the APRA Maioha Award, to be announced at the APRA Silver Scroll Awards on September 28.
The European festival dates will be announced between now and the end of the year via the band's Facebook page. In the meantime, in between gigs, it's NCEA exams for drummer Henry de Jong (17) and bass guitarist Ethan Trembath (15). And in December, they will be back in the studio recording the remaining tracks for their album, which will be released in early 2018.
More on SunLive...