White Island now online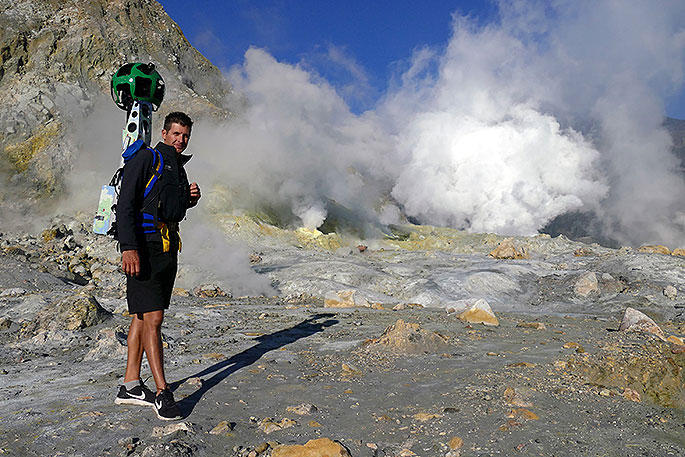 A project between the Whakatane District Council and Google is aiming to bring the raw power of White Island/Whakaari online, with Google Street View.
People are now able to explore White Island with Google Street View alongside some of the World's great wonders; the Pyramids of Giza; The Grand Canyon; and Mount Everest to name a few.
The project is the first of its kind in New Zealand, with Google loaning a 'Trekker' to a third-party organisation to capture Street View imagery.
Known to Maori as Whakaari, White Island is one of the world's most accessible, continuously active marine volcanoes.
Its awe inspiring landscape attracts sightseers from all over the world, fueling a tourism boom for Whakatane, the 'gateway to Whakaari'.
The island is not the only local attraction in Whakatane to now feature on Google Street View.
A team of local trekkers set out over summer armed with a Google Street View Trekker - an 18 kg, 15 camera backpack that takes high-quality 360° photos every 2.5 seconds, to capture 35 kilometres of the Whakatane District's most iconic walks and landmarks.
The result is an immersive experience that will give prospective tourists a taste of what the Whakatane District has to offer, including Moutohora Island sanctuary which is home to endangered species, such as kiwi, tuatara, saddleback, kakariki and native geckos.
You can also take a virtual hike on Nga Tapuwae o Toi, a walkway that captures the essence of the Whakatane District. The track features pa sites of major historic significance, spectacular pohutukawa stands and sublime coastal views.
It also passes through the Ohope Scenic Reserve, home to a thriving kiwi population.
Other attractions now featuring on Google Street View include, the ancient podocarp forest of Whirinaki Te Pua-a-Tane Conservation Park on the Waterfall Loop Track, the spectacular Tarawera Falls, Tauwhare Pa, Warren Cole Walkway and Port Ohope Wharf.
Project co-ordinator Whakatane District Council, Public Affairs Officer – Social Media, Richard Parfitt says it's been a great project to be a part of.
"The Council worked closely with a number of organisations to get permission and access to the locations.
"Special thanks go to the Department of Conservation, Ngati Awa, Ngati Whare, Ngati Rangitihi, Halo Whakatane, Whakatane Kiwi Trust, Frontier Helicopters, White Island Tours, Whakaari Management Trust Ltd and the Te Tapatoru a Toi - Joint Management Committee.
"There was some discussion around whether putting footage online would mean people would choose not to do the real thing.
"Google Street View can't fully replicate the real life experiences. White Island especially - standing on an active volcano, the smells, noise and scale of it is truly something best experienced in person."
Matthew Jenke, Google New Zealand Special Collect Operations Lead, adds that giving people a taste through Google Street View is a brilliant way to capture their imagination and encourage them to explore further and travel to New Zealand.
"The Google Street View camera loan programme is bigger than that," he says.
"Google Maps has over 1 billion monthly active users. People who may never have the opportunity to visit White Island will now be able to see it; Through Virtual reality teachers around the world are taking their classes on virtual expeditions to amazing places around the world. We're excited to have White Island added to the list of experiences Google Street View provides."
More on SunLive...