Ruapehu crater lake heats up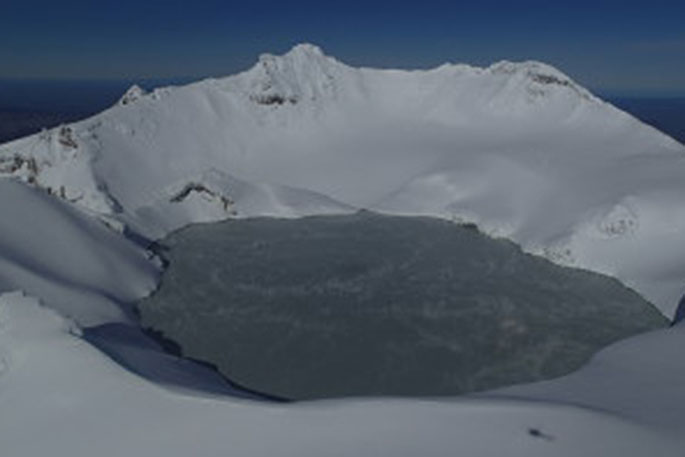 Click the image above to view slideshow
A recent peak in temperature at a lake on Ruapehu has marked the end of a heating cycle.
A temperature high of 43°c was recorded at The Crater Lake (Te Wai-a-Moe) on Mount Ruapehu, which occupies the active vent-crater, on September 5.
GeoNet Volcano Information Specialist, Brad Scott says the temperature marks the end of the volcano's current heating cycle.
"For much of August the lake temperature rose at about 1°c per day, starting from a low 23°c, reaching the peak of 43°c."
"Calculations indicate that around 600 MW of heat energy was needed to heat the lake, being about the same as the heat required to generate electricity from one of our geothermal power stations."
"This is the typical behaviour of a large geothermal system," says Brad.
"Ruapehu has regularly done this since we started monitoring the temperatures in the 1950s."
"Naturally you have to add heat to the volcano but we don't always have a clear relationship with any other changes or status in the volcano."
"Sometimes it's just the behaviour of a geothermal system and other times it is related to what we call a magmatic system, that's when new molten lava is added to the volcano and it comes near the surface."
"We've not seen that since the new crater lake, not in the last 10 years or so."
The high temperature is not out of the odd, he says.
"We've had it up into the 50°c range, but that's when it is magma related and that's definitely not what we're seeing at this stage."
The lake temperature is now 39 °c.
More on SunLive...