Looking for fast start at Laser worlds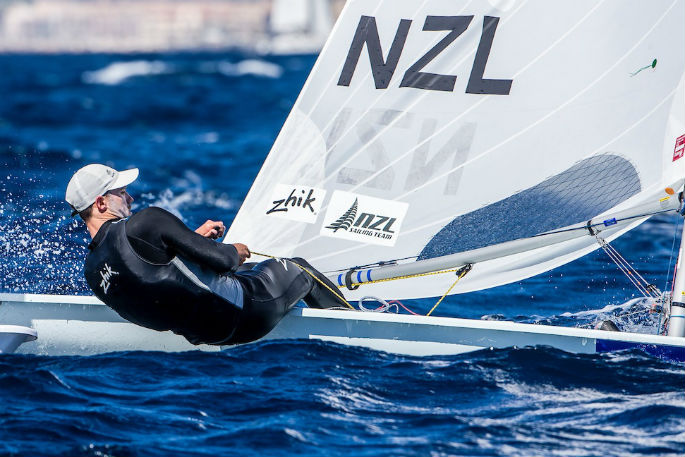 Tauranga sailor Sam Meech tends to finish regattas strongly, gaining momentum like the Freemantle Doctor blowing into Western Australia.
But like the famed Perth sea breeze, he can take a while to build up speed. It happened at last month's world championships test event in Aarhus, when he was 43rd after the first day only to storm back and claim bronze, and he also started slowly at the Hyeres World Cup regatta in April, scraping into the top 10 medal race which he finished third in.
Sam knows he needs a good start at the Laser world championships in Split, Croatia, which start on Thursday night NZ time.
"If I sail well, I hope to have a shot at winning a medal," says Sam. Last year he became the first New Zealander to win an Olympic medal in the Laser class when he collected bronze.
"I do quite enjoy the racing as it goes through the regatta. It was like that at Aarhus and Hyeres where I moved up quite a lot over the last couple of days. I'm confident that if I don't start very well I can come back but it would be really nice not to be in that situation."
It could be really important in Split, with light winds predicted for a large part of the six-day regatta.
"It's not looking great," says Sam. "This could be an event when you spend a lot of time sitting around."
The Laser fleet lost two out of the four scheduled days to light winds for the practice regatta. Sam finished third in that event and was second in a special knockout competition sailed at night in the marina to the backdrop of music playing and locals enjoying a few drinks.
The Mornar Grand Prix is billed as the world's shortest regatta, with a beat barely 100m long, and Sam is joined in the star-studded field of nine sailors by Tauranga's Tom Saunders, who looms as another contender this week.
Tom sailed consistently well all week at the world championships test event, featuring in the top three of the standings from the outside in a quality field. He was on course for bronze in the medal race until he picked up a penalty for pumping in the final lap, allowing Sam an opening he took.
Tom is one of a handful looking to usurp Sam as New Zealand's top Laser sailor and win the spot at the 2020 Tokyo Olympics, and needs to do that with top results at pinnacle events. Andrew McKenzie is also among that group he will also be in Split along with promising youngster George Gautrey.
Sam is aware others want his New Zealand bib but knows good competition can only help his Olympic and world championship prospects.
"It's really good to have training partners otherwise, when you are at home, you have no one to keep you up to speed," says Sam. "I would much rather get beaten by the Kiwis and finish near the podium than be the first Kiwi in 10th or something.
"No one is really too worried about the other Kiwis, they just want a good result. But you see it with other countries. They start looking at each other and try to be the first. I look at the other New Zealand guys as just another boat, or at least try to."
It might be hard to pick them out, with no fewer than 148 sailors from 51 countries lining up in Split. The big fleet is another reason why Sam needs to get up to speed early.
More on SunLive...