Futsal Fern's winning start in Tauranga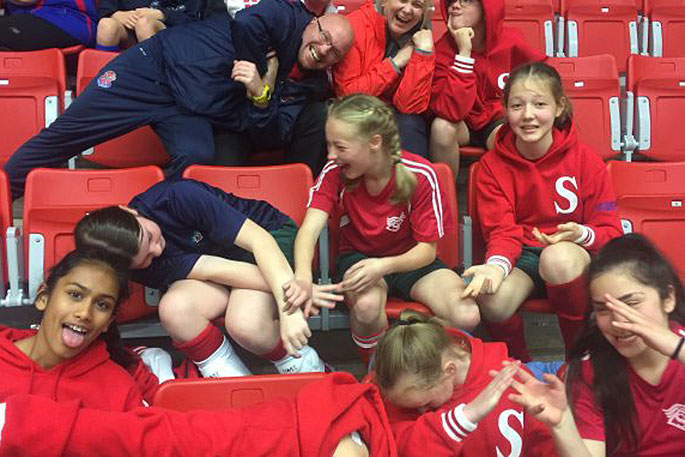 Click the image above to view slideshow
The Futsal Ferns have begun international futsal in dominant fashion, defeating New Caledonia 14-0 last night at the Baypark Arena in Tauranga.
The Trans-Pacific Futsal Cup fixture, which was a landmark moment for women's futsal in this country, was marked by a complete performance from Nic Downes' team as they overcame a spirited New Caledonia team with strong showings in both halves.
Flanker Dayna Manak made history when she scored the first-ever goal for a Futsal Fern in the eighth minute. It set up a commanding first half with the home team leading 6-0 at the break.
The Ferns looked capable of scoring every time they went down the attacking end of the court and Sophie Williams, Torijan Lyne-Lewis, Jess Verdon, Britney-Lee Nicholson and Maxine Cooper all got on the score-sheet in a one-sided opening 20 minutes.
New Caledonia were much better in the second half and harder for the New Zealand side to break down, with the visitors goalkeeper Aurelie Meandu pulling off a number of quality saves in a standout performance.
But the shots kept finding the back of the net and the Futsal Ferns added eight more in the second half for a convincing 1-0 lead in the three match series.
Skipper Hannah Kraakman scored the opening goal after half time when she was well set up by Hannah Robert and a few minutes later New Caledonia conceded an own goal to make it 8-0.
Further goals from Manak, Maxine Cooper (2) who completed her hat-trick, Verdon, Ella James and Robert completed a memorable first outing in international futsal and a performance they will look to build on throughout this series.
It was a much closer affair for the new-look Futsal Whites squad in their Trans-Pacific Futsal clash with New Caledonia with the hosts prevailing with a 3-1 win.
Marvin Eakins' squad, which had five players yet to play for New Zealand, were looking to make their mark in the opening game of the Trans-Pacific Futsal Cup but were well held by the visitors in the first half with the scores 0-0 at the break.
Both teams were feeling each other out in the opening 20 minutes, but as the game went on New Zealand settled into a lot more possession and New Caledonia sat around the halfway mark looking to counterattack.
The Futsal Whites took control of the game shortly after the break. Auckland flanker Kareem Osman scored in the 23rd minute to take a 1-0 lead and then Canterbury pivot Benjamin Lapslie followed it up two minutes later to find the back of the net on his international debut. Capital flanker Luc Saker finished the scoring for New Zealand in the 30th minute and the visitors picked up a consolation goal to Eric Salhullwa before New Zealand held on for a 1-0 lead in the three match series.
Eakins' side won the game through their organisation and movement. Osman, even though he will be kicking himself for missing a penalty, was a standout for the home side alongside the experience of Auckland flanker Dylan Manickum and Lapslie who showed he belonged in international futsal on his debut.
Both teams will dust themselves off and go again tonight at the same venue with the Futsal Ferns and Futsal Whites looking to claim the Trans Pacific Futsal Cup.
The Futsal Ferns and Futsal Whites internationals are being shown on a live stream at www.nzfootball.co.nz.
Trans-Pacific Futsal Cup Baypark Tauranga
Futsal Ferns 14 (Cooper 3, Manak 2, Verdon 2, Williams, Lyne-Lewis, , Nicholson, Kraakman, James, Robert, OG) New Caledonia 0 HT 6-0
Futsal Ferns; 1. Rivalina Fuimaono, 2. Shivanthi Anthony, 3. Jessica Verdon, 4. Ella James, 5. Sophie Williams, 6. Dayna Manak, 7. Hannah Kraakman, 8. Tilly James, 9. Torijan Lyne-Lewis, 10. Hannah Robert, 11. Britney-Lee Nicholson, 12. Mikaela Boxall, 13. Leah Gubb, 14. Maxine Cooper, Coach Nic Downes
Futsal Whites 3 (Osman, Lapslie, Saker) New Caledonia 1 (Salhullwa) HT 0-0
Futsal Whites; 1. Ata Elayyan, 2. Jonathan Steele, 3. Jordan Ditfort, 4. Thomas McGowan, 5. Luc Saker, 6. Kareem Osman, 7. Marvin Eakins, 8. Joshua Margetts, 9. Stephen Ashby-Peckham, 10. Dylan Manickum, 11. Lucas Cordeiro Osorio Da Silva, 12. Hamish Mitchell, 13. Benjamin Lapslie, 14. Luke Maynard. Coach Marvin Eakins
Trans Pacific Futsal Cup Baypark Arena, Tauranga
September 13
Fustal Whites v New Caledonia 6pm
Futsal Ferns v New Caledonia 8pm
September 14
Futsal Ferns v New Caledonia 6pm Futsal Whites v New Caledonia 8pm
More on SunLive...