Minor upgrades for major intersections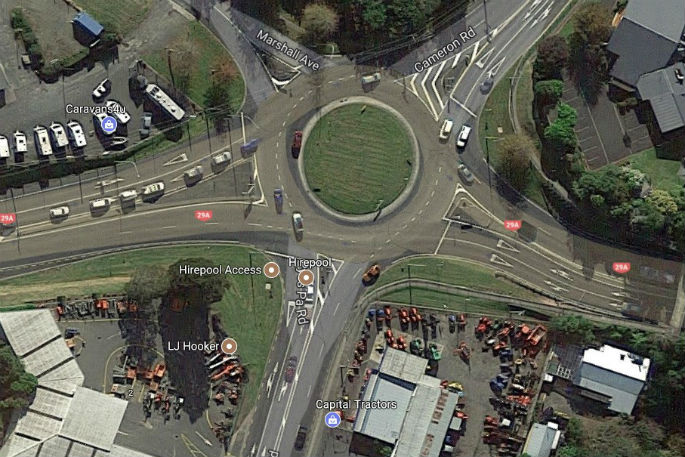 Three of the city's major intersections are likely to be tweaked as part of the summer maintenance programmes, an NZTA transport planner told city councillors this week.
The intersections are the Cambridge Road/SH29 intersection, Barkes Corner, and Elizabeth Street/Takitimu Drive.
The agency is looking at short term fixes that can be achieved more or less with a pot of paint, says transport planner Iain China at the city council Transport Committee workshop this week.
"Really what we are looking at here is any value adds that we can add to routine maintenance," says Iain.
"This is essentially basically the pot of paint and the signs and the lines kind of treatments. So we have routine maintenance scheduled at intersections scheduled from time to time, reseals and so forth.
"So it's when we are looking at going down on those roads there, any benefit that we can actually do that is a little bit smarter in terms of how we manage the traffic in terms of the road markings and signage."
At Cambridge Road there are problems with the morning and afternoon peaks, particularly regarding traffic turning left and right out of Cambridge Road being held up by a higher traffic demand on SH29.
There are basically the same issues in the afternoon, says Iain.
They're looking at banning the right turn out of Cambridge Road and extending the merge lane for left turning traffic to encourage commuters to go down the hill and turn around at the roundabout – as some are doing now.
It will require a little more work to reconfigure the intersection, including some sort of solid medium to prevent the right turn out of Cambridge Road.
It could be combined with a 60km/h speed limit for Tauriko.
Slower traffic approach speeds provide more gaps for traffic turning out, says Iain.
Bringing forward the Tauriko West development also means access to the highway by a temporary 'T' intersection and later a roundabout near the Tauriko School.
The possibility of a connection from Cambridge Road to that roundabout is being talked about as a longer term solution.
At Barkes Corner, NZTA and TCC are considering widening the approach lane from the Kaimai end, to allow more stacking.
The problems there include morning tailbacks on SH29 sometimes affecting the toll road, and afternoon peaks southbound on Cameron Road.
Some resealing scheduled there for the end of this year is providing an opportunity to extend the left hand land on the SH29 approach from The Lakes to allow more stacking, and they are also looking at lane making tweaks – to encourage traffic to get into the right lane on the approach to the roundabout, says Iain.
They are also looking at using lane changes to regulate the traffic going into the roundabout by reducing some entry lanes.
"There's a little bit of science behind it," says Iain.
They are looking at improving the traffic flow out of Pyes Pa in the morning peak, and are considering dedicated left turn out lanes. But that may interfere with afternoon peak traffic on Cameron Road. They need to do more modelling.
"There's a little bit more work to do before we sign it off," says TCC transport manager Martin Parkes.
"It's a complicated intersection this one and so we need to be careful how we tread going forward with it."
If traffic signals are the option that will be a few more years away.
At Elizabeth Street ramp metering traffic lights are being considered to resolve the two main issues that include morning holdups for southbound traffic on Takitimu Drive caused by right turning traffic entering Elizabeth Street, and in the afternoons it is the tail-back up Elizabeth Street because of the Takitimu Drive traffic volumes.
NZTA doesn't think anything can be done using signs and lines, say Iain.
Similar to the entry ramp lights on the Auckland motorway, the lights will signal two cars through at a time on the northbound approach, to would help the morning peak flow from the bridge.
There are options to investigate for the afternoon peak. A left turn slip lane will impact on property – and there is Glasgow Street.
Glasgow Street is a complex traffic issue and if they get it wrong, it will have a significant impact on how Cameron Road performs as well, says Martin.
"This one is taking a lot more thought than the other two," says Martin.
The council is planning traffic lights for Cameron Road/3rd Avenue, to be operational in time for a parking building behind the ANZ building.
He's also looking at more work on the Glasgow St/ Elizabeth Street intersection.
Turning from Takitimu Drive right into Glasgow from Elizabeth Street is one concern.
"And turning right out of Glasgow onto Elizabeth is a problematic manoeuvre as well," says Martin.
More on SunLive...