Keeping bees in the backyard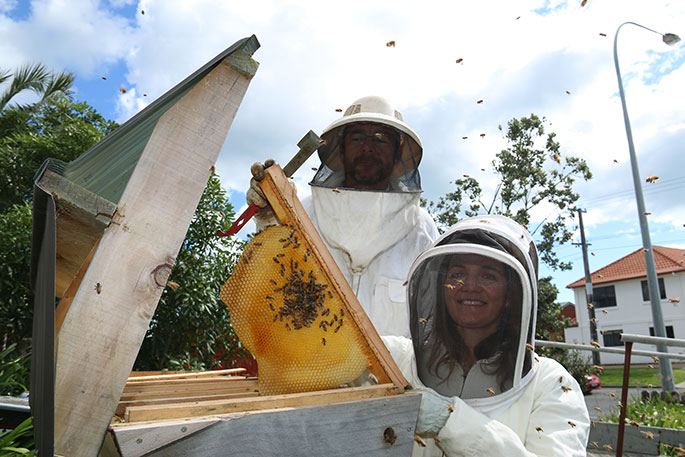 They've been described as looking like a child's coffin and have come in handy as a makeshift chilly bin.
In fact, the timber boxes dotted around the urban backyards of Western Bay of Plenty residents are actually beehives.
The beehives are the creation of hobby beekeepers Chris Mitchell and Silvana Nieto. The Papamoa couple set up Seaside Bees about three years ago and now have a 'run' of about 50 beehives, some of which they rent out on a yearly basis, and some belonging to others.
"People wanted some of our hives so we ended up building some extra ones and renting them out. We go and maintain the hives and do all the regulatory paperwork, (all beehives in New Zealand must be registered) inspections and treatment," says Chris.
"There's quite a bit of labour involved and you need to be there a couple of times of month, especially during spring. Most of the rental cost goes straight into the labour to look after it. It's a bit like a lawn mowing run."
The reasons for people wanting beehives in their garden is varied.
"Some people are just keen on honey and others are keen on pollination of their plants and vegetables. Quite a few people are keen on the beeswax. There's a lot of things you can do with it such as making lip balm or food wraps, which is quite satisfying. I mix it up with olive oil and Vaseline to make a boot polish."
Chris says bees "absolutely love" citrus trees so many people with the hives have found they are getting two crops a year from their citrus trees.
Clients are encouraged to get involved in the collection of the honey and beeswax themselves if they are keen.
"If they want to suit up and handle cones then they can, and ultimately, at the end of the year, they might decide to either keep renting for another year or purchase the hive and do it themselves."
The beehives are made from rough-sawn untreated pine and metal roofing tiles. They look like mini houses but have also been likened to a feeding trough and even a child's coffin.
"We had a beekeepers group meeting here once and we put plastic inside one and filled it with ice. It actually works as a drinks chiller too but we don't encourage that," he laughs.
Chris and Silvana have seen heavy growth in the uptake of hives each year and have found themselves in hot demand by schools and community groups that want to learn about urban beekeeping. They will be speaking several times this month as part of Apiculture New Zealand's 'Bee Aware Month'.
"We take along a comb with bees and the Queen on it; we basically borrow it out of the hive for a few hours. That's always good for the kids."
The couple are currently running an eight-week course at the local community centre on beginner beekeeping and there is already demand for a second course.
If bees aren't your thing – maybe you're allergic – and your neighbour suddenly gets a beehive, should you be worried?
"The reality is that bees are always around because they forage up to five kilometres. The most likely way to be stung by a bee is if you stand on one with bare feet on the ground and that bee could be anybody's bee. If someone has a single beehive, or even two, on their property, provided they aren't pointed under the neighbour's washing line, they shouldn't really be a big issue."
Bee poo is likely to be a bigger issue than getting stung.
"People can get yellow splatter on their car or kitchen window. Bees don't poo in the hive so they go out on what's called 'cleansing flights'. If they are cooped up inside for a few days during rainy weather, as soon as there's a break they're likely to go for a dump."
And if you thought bee poo would hardly be noticeable, think again.
"If all the bees are going to a single source of forage, such as a cherry tree, then they might all go to the toilet in unison on their way there. If your car happens to be parked under that spot that could be a problem."
Chris and Silvana wear protective clothing when working with the bees – they've been stung before and don't want to repeat the exercise – but there are times when the bees are docile and protection isn't always necessary.
Once a hive is full, a swarm of bees will leave the colony to find a new home. Swarm season for bees is usually October through to December and there are about 10,000 bees in the average swarm.
Chris says bees fill up on honey before they leave the hive so they are usually "so full they can't even bend over to sting anyone".
"And because they don't have a hive or combs there is nothing for them to defend so they tend to be very docile. A lot of swarms are collected by beekeepers wearing no protective gear at all."
After a week, however, when their honey store is all gone and they still have nowhere to live they can get "pretty shirty", he says.
Chris and Silvana collect about 12 swarms a year, usually by word-of-mouth or through people who get in touch with the Bay of Plenty Beekeepers Group.
Their very first swarm of bees came about as a result of a Facebook post where someone in Welcome Bay was looking for advice on how to get rid of a swarm of bees that had landed in their garden.
"The occupants of the house said 'help, we're surrounded by bees' so we jumped in the car with a couple of cardboard boxes and went and collected them. That was our first contact with bees. We poured them into the hive and it all went from there."
Chris and Silvana will be giving a talk on urban beekeeping at Palmers Garden Centre, 1 Ohauiti Rd, Welcome Bay from 1-3pm on Saturday, September 9 and Saturday, September 24.
They will also be presenting a workshop at the Little Yoga Festival in the Mount Community Gardens on Saturday, September 16 from 3-3.45pm.
More on SunLive...