Maggie Barry targeted by protesters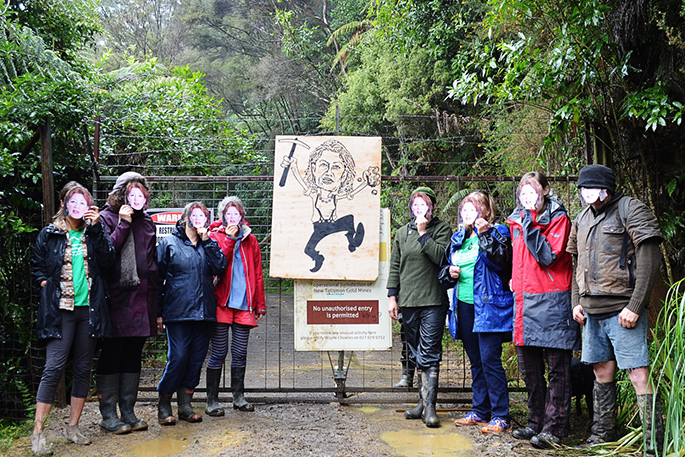 Protesters upset with a mining company's presence in the Karangahake Gorge have stencilled a caricature of the minister on the gate to the mine site.
The action took place on Saturday, in response to what protesters perceive to be a 'misleading statement' on the part of the Conservation Minister.
Conservation advocacy group Enjoy Not Destroy alleges Maggie stated on August 8 that the New Talisman mine site was only a temporary closure to September 9.
Enjoy Not Destroy spokesperson Holly Dove says the weekend's actions were a combined effort with locals to draw attention to a wider campaign to protect conservation lands across New Zealand.
"What's happening in Karangahake is setting a terrifying precedent for the rest of the country.
"That a place so beautiful, like Karangahake, which attracts millions of tourist dollars to the local community every year, with precious wildlife and ecology, could be turned over to the hands of a private mining firm is beyond comprehension."
Karangahake local and mother Jess Holdaway says the community has had enough of mining company rights being put ahead of the protection of conservation land.
"How long does this go on for? At first the minister said the closure would be until September, and now we have another year ahead of us - we've all had enough! Karangahake is outright opposed to mining on the mountain, and we're putting in an enormous amount of energy defending it," says Jess.
"We need our precious and wild places in New Zealand to be protected - this is what conservation land has always been, and how it needs to stay."
Department of Conservation spokesperson Caraline Abbott says they initially considered a request for a partial closure of a small area of public conservation land, which was authorised from June 5 – September 9, 2017.
"This was to enable an operator to better manage the health and safety matters related to their operation. Towards the end of this temporary closure, New Talisman applied for an additional period of closure to enable them to continue their activity. This additional period of closure runs until September 9, 2018.
"The term of this closure aligns with the access arrangement granted in 2013 and does not include any increase to the area size public are excluded from."
More on SunLive...