Better access at Mount Boardwalk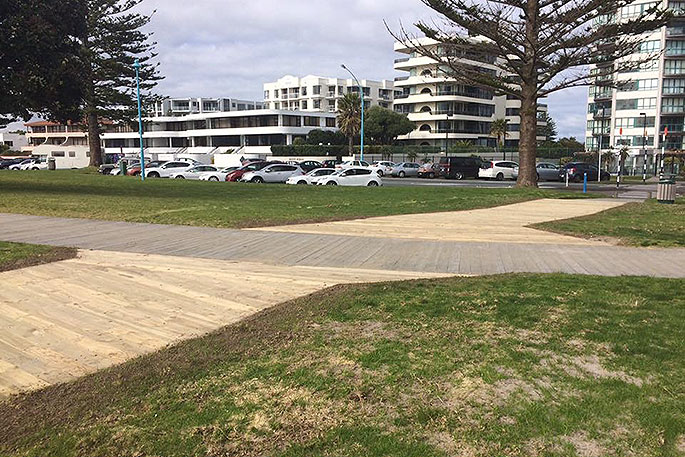 Click the image above to view slideshow
A new development to the main beach board walk at Mount Maunganui hopes to increase access for more users of the popular track.
The development has seen a new section attached to the board walk to allow better access over the grass for people in wheelchairs or with prams.
Tauranga City Councillor Leanne Brown has been a strong force behind the development and says she noticed the need for the development last April.
"When I was walking around the mount from April last year I realized we didn't have enough connectivity from the pedestrian crossing to up over to the board walk."
"I asked staff if we could include it into the minor works programme and at that point in time the budget was already spent."
Since this time Council has completed work around the base of Mauao, on Adams Ave and on the Marine Parade corner to connect the area up and make it flatter and more accessible.
"They've flattened the speed bumps, widened the footpath and improved the walk from Pilot Bay through to the beach," says Leanne.
The development to the boardwalk was completed last week.
"Mark Smith, the parks and recreation manager sent photos through to me and said 'thought you'd be delighted to see these' and I was."
"We're trying to be more accommodating for more people across the city," says Leanne.
"20 per cent of people around the city have got a disability of some sort, if we can make their life easier then we're on a really good track."
More on SunLive...