Crane topples on Papamoa house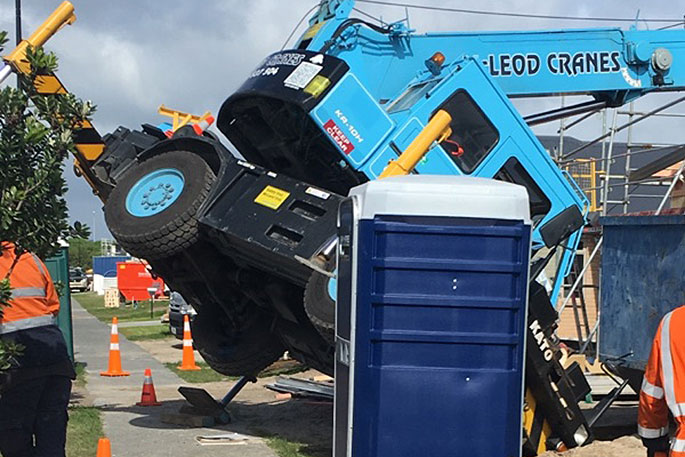 Click the image above to view slideshow
A site crane has fallen onto a house under construction at Papamoa this morning.
McLeod Cranes director Scott McLeod says the crane was setting up when an outrigger went into a sink hole.
The driver is uninjured.
"We are really grateful no one's been harmed in this incident," says Scott.
He says they are going to be cooperating with WorkSafe and the other companies involved to understand what happened and how it came about.
"The outrigger has fallen into a soak hole. But that's a simplistic view, there's a lot of events that led up to that happening.
"We are really passionate about health and safety. There was a lift plan and good process in place but in this particular incident we are not too sure, it's still really early days.
"It will take us a little bit of time to work through to understand what were the events leading up to the crane going through the hole."
McLeod Cranes has a number of cranes out working, with each crane working at three or four different sites each day.
He says it is difficult to obtain the all the information required for the safe operation of a crane on site and it's something they are constantly working with builders to understand and identify.
"It's a never ending process, and on this particular occasion somewhere along the line, which we are going to have to work to identify, somehow something hasn't happened. We have got to figure out what that was – and then figure out how we will fix it with our processes," says Scott.
"We were pre-lifting as far as I can understand, in a driveway, where someone had just delivered a rubbish skip. When I look at it, the guys have done well but they have missed this particular soak hole."
More on SunLive...