Spa to boost Rotorua globally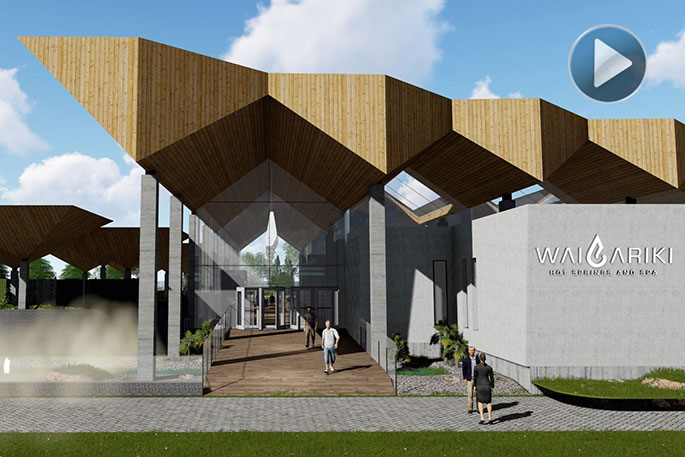 Click the image above to watch the video
The development of a new luxury spa and wellness centre on Rotorua's lakefront is expected to reinforce Rotorua's position on the global stage.
The latest development Wai Ariki Hot Springs and Spa by Pukeroa Oruawhata Group is due to open late 2019 with preliminary earthworks commencing later this year.
The facility will be positioned on the group's11 hectare site on Rotorua's lakefront and is said to expand the spa and wellness industry in Rotorua, create new jobs and boost the local economy significantly.
Pukeroa Oruawhata chairman Malcolm Short says Ngati Whakaue, Te Arawa and Maori culture sit at the heart of Wai Ariki, with the 650-year history of the tribe and Rotorua's spa heritage forming an intrinsic part of the development.
The name Wai Ariki means "chiefly waters", and is a reminder of the origin of Rotorua's thermal waters, which were called to Aotearoa New Zealand.
Consistent with maintaining a strong linkage to the tribe, the unique brand has been developed by Ngati Whakaue local, Inia Maxwell.
Wai Ariki will have elements of Maori culture infused throughout, including the design of the building and its unique spa and wellness offerings.
"While specific details around Wai Ariki and its offerings remain commercially sensitive, we are confident this development is something which Rotorua, and in fact New Zealand, has never seen before," says Malcolm.
"Our vision for a health and wellness campus at the Rotorua lakefront includes a range of different services and offerings, including dedicated space for a clinical and rehabilitation provider."
Pukeroa Oruawhata Group director and finance and expenditure chairman David Tapsell says the estimated benefit to the Rotorua economy will be measured in the tens of millions of dollars a year.
"With an estimated build cost of over $30 million, this is a significant undertaking for us so we have taken our time to plan this out," says David.
"As an iwi led development on iwi land, Wai Ariki will improve employment for local people, including Ngati Whakaue.
"In addition to the jobs created over the next two years as we build the complex, Wai Ariki will initially employ 35 staff, increasing to 80 staff in time, creating significant employment opportunities for our people."
David says Wai Ariki will be managed by Australian-based company, Belgravia Leisure, who will be recruiting and employing staff locally.
"We recognise the importance of partnering with a business that has expertise in spa and wellness, and Belgravia offers a wealth of experience in these areas. Importantly, it has the systems and processes required to support such a development."
Belgravia general manager destination, wellness and spa group, Karen Golden says Wai Ariki offers a unique blend of culture and wellness, which will deliver an experience she believes is unprecedented on the global stage.
"Wai Ariki's unique features combine with therapeutic mineral waters to deliver a world class sanctuary, that provides a place to relax, sustain and heal," says Karen.
"The way that culture has been incorporated throughout the concept, design and product offering, combined with its location and people, provides a level of authenticity which we believe makes it unlike anything else in the world."
"Importantly, Wai Ariki is focused on extending the destination's existing spa, health, wellness and visitor experiences, prompting visitors to stay longer, and experience more, in Rotorua."
More on SunLive...