Bay buses to carry bike racks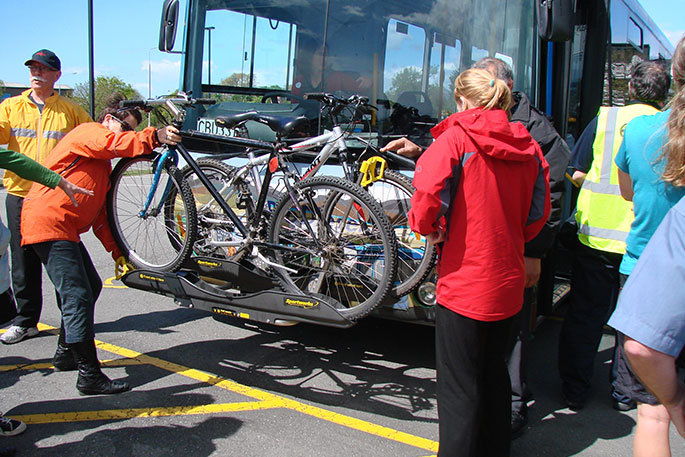 Click the image above to view slideshow
Bike racks will be included on Bay Hopper buses with the new contract, says the Bay of Plenty Regional council's Public Transport Committee chairman councillor Lyall Thurston.
The recommendations from the recent committee meeting are expected to be approved by the full council later this month.
The council's transport policy manager Garry Maloney says all going well, the new bus contract could be going out for tender before the end of the year.
Whether there will be two bike racks or three on the buses hasn't been decided.
"I know Canterbury is looking at racks that are able to carry three," says Garry.
"It becomes a dimension issue in terms of the length of the bus. My understanding is they are having do some work with the NZ Transport Agency to ensure if they are putting three bike racks on the bus then they weren't breaching the regulations.
"At this stage we haven't determined whether they will be two or three. By the time we go out to tender we will just test the water and see what are the common standards around the country."
Lyall says a positive impact on bus passengers has been seen in other regions that use the racks.
"Bus racks allow people to travel a much greater distance to and from their bus stop, and their eventual destination. This opens up public transport to a much wider range of potential passengers, and ultimately may help reduce the number of cars on our roads.
"The growth in people riding bikes has been astronomical and we are meeting demand for those cyclists, cycling being an alternative mode of transport and environmentally sustainable."
The bike racks introduced in Rotorua have been incredibly successful, says Lyall. He's unsure if they will be used by school students.
"That is something for the schools to consider, but clearly there are safety issues involved," says Lyall.
"The days of every student riding to school by bike are long gone. But we are certainly encouraging as many people as possible to use cycling as an alternative, sustainable form of transport."
In the Bay of Plenty, bike racks are currently installed on Rotorua Cityride and the eastern services of Whakatane to Ohope, and the Whakatane/Kawerau/Opotiki to Tauranga bus services.
Staff estimate that, spread over the term of the contract, the total cost would be less than $13,000 per financial year, and the cost to council would be just under $6500 per year.
More on SunLive...