Tauranga couple survive Hurricane Irma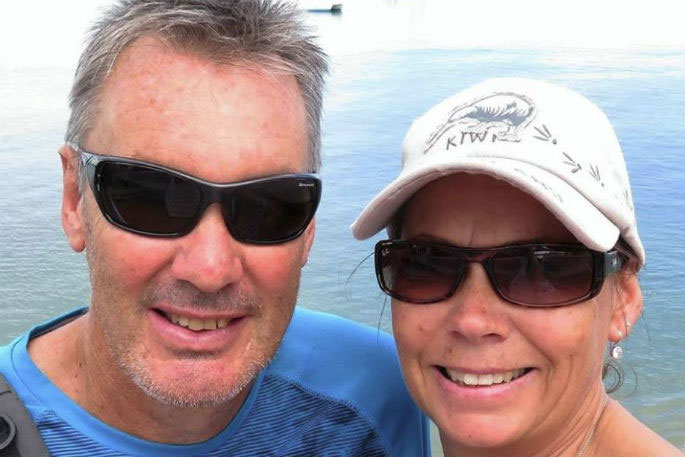 Tauranga residents Donna Bennett and Chris Isherwood are living without power on the island of Vieques, Puerto Rico, after hurricane Irma passed by the Caribbean island last week.
Vieques lies between Puerto Rico and the British Virgin Islands. Donna Bennet is a former Tauranga Volunteer Coastguard training officer and Chris Isherwood is on a year's leave of absence from the Bay of Plenty Regional Council, where he is deputy harbourmaster.
In an email sent after the hurricane hit, Donna says they survived the hurricane, but have no power and no internet. Donna managed to send the email from a local bar.
They have no news of the outside world, and no idea how the rest of the islands got on or where the hurricane is now, though they heard Irma was expected to make landfall in the USA over the weekend.
In the 24 hours since Irma's passing they have calm sea and no wind.
"We have been for a walk around and there is mostly trees down, very little structural damage that we can see," says Donna.
"Stopped to talk to one fella and he updated us with the news that the hurricane hit Tortola (I think that is what he said??- can't google it to check lol) and bounced north, so her path changed at the last minute before it got to us so that is why we were so well off."
The Vieques ferry terminal (pre-Irma). Photo: Google
Even without the full force it was quite terrifying at times, says Donna. There wasn't as much rain.
"When it swung around to the north we got water in the front doors and were on mop up duty for about an hour, then she swung to the west and hammered the other side. We knew then that she was on her way! It was really fascinating seeing the change of wind direction as she progressed."
They had a hurricane dinner of roast chicken and kumara and salad, bottle of wine, candle light - at 3:30 pm. It gave them something to do to keep their minds off the howling wind outside, says Donna.
"By late afternoon she was getting a bit less intensity, or maybe we were just getting used to the sound of the wind. There were a few times we just froze and held on thinking 'this is it', but it wasn't. The house across from us has lost their veranda roof, it is still just hanging there from one corner, very lucky it didn't go flying.
"There was no one home which was just as well, one of the uprights when through a window and they would have had a lot of weather in there being on the west side.
The local sunset bar lost its roof and some windows, and had a lot of water inside.
The supermarket was open but is expected to run out of food as the ferries are not running. A friend took them to the ice factory where they licked up a couple of bags.
"We stocked up on food and meals before the hurricane, but with no power the fridge is now warm," says Donna.
"The freezer is a bit cooler and we have put one bag in each of the freezers (one downstairs in the BnB) so at least it can act a bit like a fridge. We loaded the downstairs one with stuff we would need later and haven't opened it (except for putting in the ice) so it will be staying a bit more 'frozen'.
"The one upstairs is all defrosted. So we are eating our way through the freezer. But it is working really well, we will have enough food for the next three to four days providing we can keep it relatively cool. We should be able to buy ice at the stores close to us today as they will have stocked up - the ones who have generators and can open up.
"It will be in high demand. We have no idea how long the power will be off. Some say three weeks and some think it will be back on fairly quickly. Today we will go and see if we can find a hot spot, or maybe ask at the bravo beach hotel if we can use their internet ( if they have it). They have a generator but that is not to say they have internet I guess. Anyway, we will give it a go and see if I can get this email away."
"The garden got a thrashing but nothing too terminal," says Donna.
"There were lots of leaves and small branches all over the yard and driveway. All the lemons of the neighbour's tree ended up in our driveway. Then the guy with the fallen down veranda came across and pinched them all!!
"So no power. It is always surprising how much we rely on the electricity! We are quite lost without the internet. I hate not being able to talk to the girls on a regular basis and I know Mum has been very worried, so we have still used our cell phone to contact but there is only limited credit so we are being careful. Also the phone and our laptops will run out of power soon and then we won't even be able to send a txt. As I said hopefully power will be restored sooner rather than later.
"And gee we miss the fans! It is so hot sleeping without the fan going. There doesn't seem to be much wind at the moment either. Usually there is a bit of wind blowing, which is critical!
"But it is so calm just now which is making sleeping almost impossible. We did hear, before the power went off that there is another tropical storm coming right behind Irma. There is no sign of it just now so we don't know where she is up to.
"So we are fine! We survived! We will just carry on with our usual routine as much as we can. Hop on our bikes this morning and go walk the dogs, keep eating the freezer empty!
"Hopefully I can get this away sometime today. I will send it as a blanket so to reach more people at once. I hope everyone is well and taking care of each other Lots of love Donna and Chris xxxxx PS.
"Following writing this we have been out all morning helping to clear a couple of yards and mop up water which has come into a couple of un-occupied houses. We found out the bank has been robbed!! Not sure if they got anything. The electric people are hard at work to get the power on so we have fingers x'd it will be soon!!!! And Jose is looking like it will track away from us but we will feel her existence on Sunday! Ok off to a bar that we know has a generator and hope they have some internet."
More on SunLive...