Thousands attend AIMS Games opening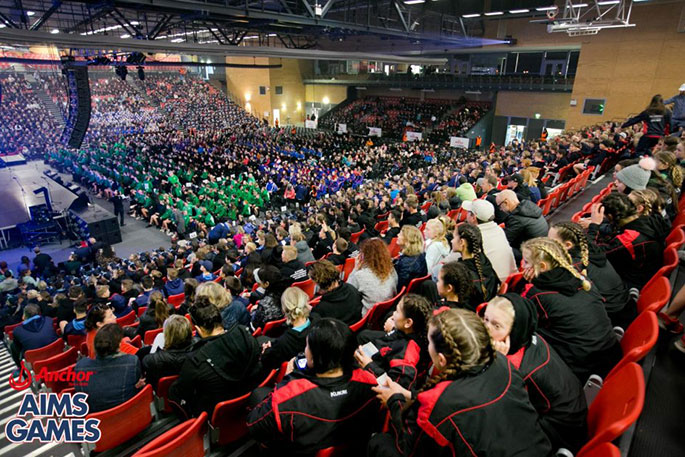 Paralympian swim-star Mary Fisher bounced her backstroke gold medal in one hand, held her cane in the other and told 5000 intermediate-age athletes to chase the unparalleled excitement of achieving their sporting goals.
"Get the job done," she insisted, at the opening ceremony for the 2017 Anchor AIMS Games in Tauranga. "Live your lives in whatever passions you have."
Paralympian Mary Fisher.
Over the next week, more than 10,000 intermediate-age sports stars from 302 schools will compete across 21 codes. As well as the Kiwi kids seeking junior sporting glory, competitors have also travelled to Tauranga from schools in Indonesia, Australia, the Cook Islands and Tonga.
Fisher told the crowd at Mount Maunganui's ASB Arena that it was a year to the day since she had won that Paralympic backstroke gold in Rio.
She talked through her determination to go as fast as she'd ever gone before. When she finished the race, she couldn't immediately determine her placing in the mayhem of the stadium, but she was pleased with her performance.
"I knew I couldn't have gone one hundredth of a second faster."
As it turned out, she set a world record in that race and added another Paralympic gold to her bulging trophy cabinet.
The opening ceremony began with a vigorous performance by a combined intermediate-age kapa haka group, representing five Bay of Plenty schools.
The crowd stood for the national anthem, sung by vocalists their own age.
Kiwi singers Mitch James and Theia performed, as did Maori comedy dance troupe JGeeks and street dance champions Urban Dance who partnered with accomplished Tauranga Boys' College singer George Hiku.
AIMS Games Trust chair Brian Diver advised the participants to win and lose with dignity.
School groups of girls swayed in unison and the crowd hollered in appreciation as each speaker urged them to enjoy the week ahead.
World champion Black Fern Selica Winiata warned that bold power can come in petite packages. The diminutive rugby union and sevens player is a policewoman in Palmerston North. She said opponents often thought they could "smash" her.
"People underestimate me."
She advised the athletes to warm up, cool down, and take injuries seriously, making use of the ACC warm-up zones spread throughout AIMS Games venues this week and listening to your body: "Don't be silly and try and play on."
More on SunLive...