Schools celebrate singing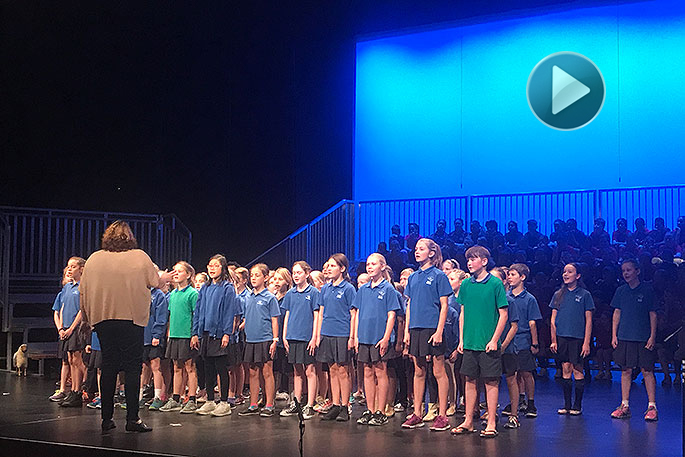 Click the image above to watch the video
The Tauranga Primary School's Music Festival has brought primary schools from around the city to perform at Baycourt this week.
The event, which has been running since 1956, was formed by a group of teachers who wanted to ensure that Tauranga children could enjoy the experience of making music together.
More than 1300 school children from five to six Bay schools filled Baycourt with singing every night this week over five nights.
This year's theme was All Creatures Great and Small and featured popular songs like The Octopuses Garden, I Bought Me a Cat and Eye of the Tiger.
All school choirs performed their own special song about creatures as well.
Tauranga Intermediate deputy principal and Tauranga Primary School's Music Festival Society president Kathy Colville says the festival is an exciting event for schools in the Bay of Plenty.
"All schools across the Bay of Plenty are invited to take part in the Bay Of Plenty Schools Music Festival," says Kathy.
"Each evening six to seven schools perform both massed choir songs and their own school selection."
"Having a different theme each year challenges the teachers and students across all of the genres and many of the school also add to their singing with dance, orchestral and drama."
She says that plenty of work goes in behind the scenes, to bring it all together.
"Carol Storey and Andrea Meredith, the festival's musical directors, embark on a marathon process to identify and audition for the many solo roles for each evening's performance."
"This huge co-ordination takes place over several months to ensure that all students who wish to audition, have the opportunity to do so."
Kathy says it's an event, that shouldn't be missed.
"One member of the public has told us that she looks forward to this event every year and each year she is 'blown away' by the talent and confidence of Bay of Plenty students."
"This is an opportunity for them all to explore their personal potential."
"Many of the students who have performed at the music festivals over the years, have gone on to careers in singing and in the arts."
Tauranga Intermediate soloist, Ella Chapman-Hodge says she loves being a part of it.
"This festival is an opportunity to sing with students from different schools and to show how well you can sing and it is such a fun thing to do."
"It's also a great time for your family to see you perform," says Ella. "My parents, grandparents and Aunt and Uncle all came to our night."
"Both of our songs were original songs written by Carol Storey and her daughter Natalia Lunson – this made them even more special as they had been written especially for our school production."
"Now that the Light is Gone, was written especially for my character and I loved being able to share this with everyone."
More on SunLive...