First home dream still attainable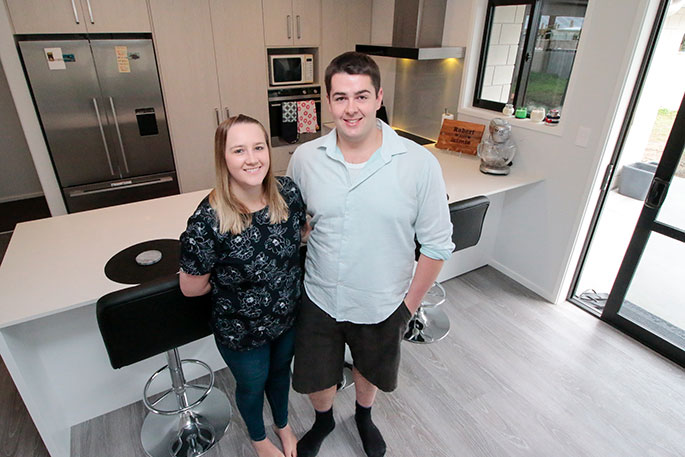 Click the image above to view slideshow
Yes, it's one of those stories – about a young couple bucking the trend and making it into their first home.
But Robert Upson and his girlfriend Jaimie Shepherd have done just that, moving into a brand-new, four-bedroom house in Katikati.
Robert, originally from Auckland, moved south about 18 months ago to help realise his dream of owning his own home.
"I've been looking for the last couple years, and settled the price of my house 18 months ago. I ended up paying less than a bad apartment or unit in Auckland," he says.
"I was looking at places up there which were going to auction for $650,000 and needed a lot of work done on the house. For less than that, I've bought a brand new place down here."
The apprentice diesel mechanic purchased a house and land package from GJ Gardner Homes and says the only downside will be the commute to work in Mount Maunganui every day.
However, thanks to getting up early it only takes him around 35 minutes – which those living in Omokoroa will know is standard for rush hour anyway.
So what's the secret? Apart from living with his father for a couple years and only paying $120 in rent, Robert's had no special advantages.
"I suppose I've sacrificed a bit coming down from Auckland, but mostly I've just saved. As long as you're saving some money each week, you can do it. When I moved to Tauranga I just lived in a cheap place with some other guys, instead of renting a whole house.
"It's worked out well for me. I'll get a valuation done soon, but I think I've made a bit of money already just on the value of the house now, compared to what I paid for it."
He reckons if he saved harder, he might have been able to afford an even better place. But life still needs to be lived as well.
"You've got to find a balance between saving money and having a bit of fun."
More on SunLive...