Students gain experience with carwash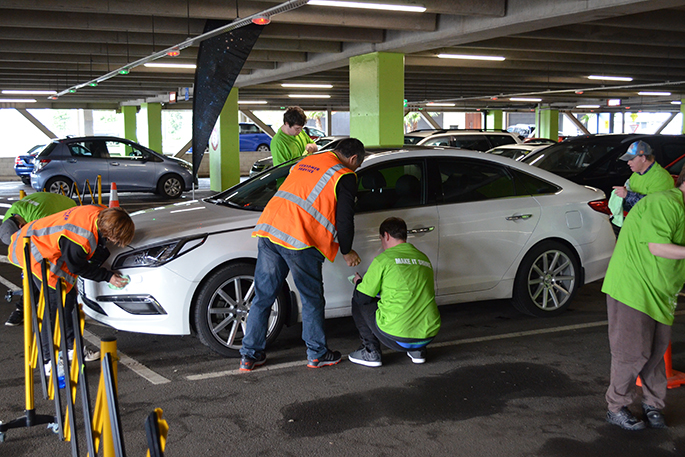 Click the image above to view slideshow
Students from Toi Ohomai Institute of Technology have been gaining valuable real-world experience running their own 'dry' carwash at Bayfair.
The students are part of Toi Ohomai's 'Skills for Living' programme, which helps those with either learning or intellectual disabilities gain confidence.
Programme tutor Gerry Hoeberigs says it's a varied programme.
"Many of our students may have come from a background with little schooling because of the disability they have. We aim, as much as possible, to give them an experience everybody has. For example, we teach them communication skills in everyday situations, and how to get on with people."
He says the 'dry' carwash is just one of those experiences giving them the opportunity to work as a team and communicate with the public.
"We say you need to be here at a certain time in the morning, and you finish at a certain time, just like you would with an employer."
There are 12 students taking part, with six able to work as a team on two cars at a time. And as for the name, it's called a 'dry' carwash because there's no water involved.
"It's more of a shine. If somebody came in with a muddy car we couldn't really wash their car," says Gerry. "We use cloths with a carwash product to shine the car and make it look new. At five dollars it's good value."
Two carwashes have already taken place, with a third planned for Thursday, September 14, from 9.30am-2pm. All funds raised will go towards the students' charity of choice – Good Neighbour Trust.
"We've had a lot of support from Bayfair. They've been really wonderful in providing the space, we're very grateful for it."
Bayfair Centre manager Steve Ellingford says it's been a pleasure to support Toi Ohomai Institute of Technology Students by providing an accessible space for them to host their car shine business.
"The New Zealand Certificate in Skills for Living for Supported Learners is a fantastic course for its students, and if there is anything we can do to help their education and future employment opportunities we will always get behind it."
Gerry says the 'Skills for Living' programme is great for people who may have lost time at school due to mental health issues and don't have formal qualifications, as well as those with intellectual disabilities.
"We are taking expressions of interest for the programme for 2018. But those spots are filling fast."
More on SunLive...