Drag race fuelled by taxpayer money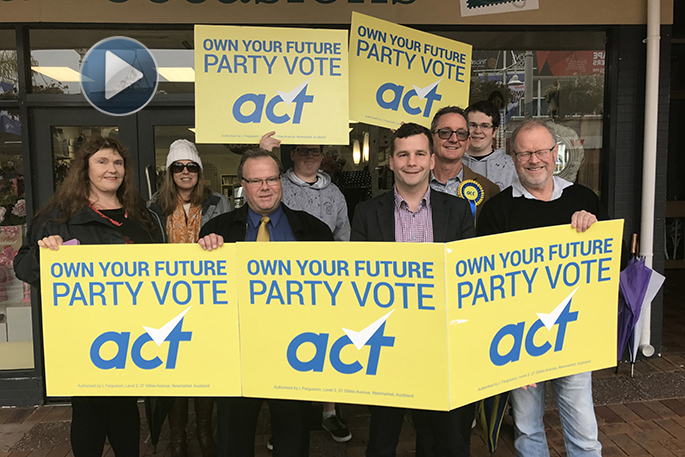 Click the image above to watch the video
The government is "sucking up" tax payers money and changes need to be made says David Seymour.
ACT leader David Seymour, along with ACT candidates Bruce Carley and Stuart Pedersen met with locals at Red Square in Downtown Tauranga this morning to present their spending promises this election cycle.
David says the current government taxes and spends $80 billion every year, and after this campaign cycle, the figure is expected to get even higher.
"The Government already spends $17,000 per person and under a Labour-led government, spending would only grow exponentially. The election drag race between National and Labour is fueled by New Zealanders' hard-earned dollars"
"This election, National and Labour have made promises worth billions, with Labour promising over $20 billion in new spending, including $100 million to upgrade urban cycleways and $105 million to resurrect rail between Hamilton and Tauranga.
"No one should pay a quarter of their income in tax and we can achieve that without cutting health, without cutting education, and without cutting welfare and superannuation."
"There are tax payers in Tauranga, who actually make this economy go and they are being fleeced far too much."
ACT intends to confront this problem by cutting down funding in areas that aren't of importance.
"The government wastes at least $1.3 billion a year on 'corporate welfare' grants, funds, and subsidies," says Stuart Pedersen.
"ACT says government should stick to the basics, funding core services, paying down debt, and cutting tax, rather than splashing out on golf games, research, and handouts for business."
"ACT's fundamental belief is that the government should spend less of your money and ACT is the only party that has supported reducing wasteful government spending. While every other party bribes voters, ACT will identify more waste to cut before the election."
Some of ACT's examples of wasteful spending:
• $56 million-a-year Marsden Fund, which bankrolls select 'academic' research, some of which includes, a study on Cultivating chamber music in Beethoven's Vienna: a study in socio-musicology ($580,000); or anti-trade activist Jane Kelsey's Transcending embedded neoliberalism in international economic regulation ($600,000)
• NZ on Air, using around $130 million to subsidise programmes like season two of The X Factor NZ ($800,000); Mastermind ($685,360); Jono and Ben 2016 ($1,717,042); The Adam and Eve Show ($3,080,400); and Find Me a Maori Bride season 2' ($590,000).
• Taxpayer-funded advertisements such as "change your lightbulbs" (the Energy Efficiency and Conservation Authority's advertising comes to $8m)
• The Major Events Development Fund, costing taxpayers $77.5m since Budget 2009 for causes like The Ultimate Waterman stand-up paddle boarding event ($1.2m) and the New Zealand Golf Open ($1.9m).
More on SunLive...