Confront it, talk about it, beat it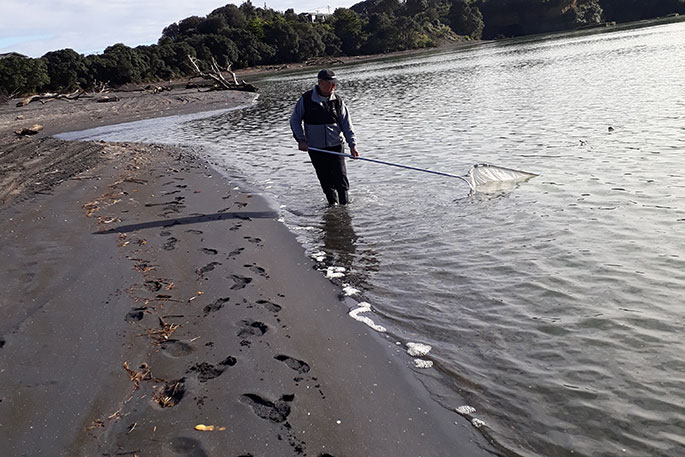 When he steps out on the streets of Katikati for a six-hour non-stop gig later this month he could be forgiven for announcing himself with the immortal signature "Hullo, I'm Johnny Cash."
Because Tony Dodunski will probably launch straight into 'Folsom Prison Blues.' 'Well, I'm stuck in Folsom Prison and time keeps dragging on….'as the typically joyless dirge goes.
'I shot a man in Reno just to watch him die, and when I hear that whistle blowing I hang my head and cry.'
"I will probably sing Folsom Prison Blues a hundred times that day," threatens Tony, Katikati's answer to the Man in Black. And 'Ring of Fire', and 'I Walk the Line' and perhaps 'Cocaine Blues' and a raft of other Cash offerings.
Tony has spent six years in his own prison; his own dark place. And the six-hour busk in Katikati on Thursday, September 21 is one hour for each of those six years the muso has survived prostate cancer. "I hope to have some sponsors and get a few donations to give back to prostate cancer research." It's his contribution to Blue September – an awareness campaign about prostate cancer.
He was being monitored in 2010 after a blood test and digital examination. Then two biopsies in 2011 confirmed the worst. "Devastating news to be honest," says the retired 43-year Telecom tech. "I thought my life had come to an end."
Then he began his 'rollercoaster ride.'
He underwent a radical prostatectomy. "I felt quite positive – I decided I was going to get over this thing." But his cancer metastasised. "Into my bones and lymph nodes. Things weren't working too well."
His emotional ride emerged from a vertical loop when the government funded Zytiga – a drug used when prostate cancer can't be treated with surgery or other medicines. "It's worked extremely well for me for two years." It's not working as well as it was but they did tell him it wouldn't work forever. "But I am still getting a good run out of it."
The Katikati troubadour is talking to The Weekend Sun from Mokau – a little coastal village at the mouth of the Mokau River, near Waitara on the North Taranaki Bight. "White-baiting mate. Really enjoying life, I can tell you."
He reckons if he was any younger and fitter they'd be calling him up to play the Pumas tomorrow night.
Tony has some lessons to pass on from his experience as a survivor.
"The family have been crucial. Terrific support. I know my wife Heather has been hurting but she is my backbone." When Tony went into surgery for his big op there were four women at his bedside – Heather, his two daughters and a grand-daughter. "When I came out six hours later they were still there." Six years later he is still very moved by that moment. "The whole family is the same – cousins, brothers and sisters-in-law. They see men taking all these pills and they understand what I am going through."
Tony has a new calling. He is proselytising – spreading the word, making men aware, saving men from themselves. "My big thing is be positive, don't be afraid. Confront it – have the digital examination and the PSA test, and you can beat it. Men walk away from it. But it's your life and it could be a lifesaver. Just go for it."
Prostate cancer claims the lives of 600 fathers, sons, brothers and grandfathers a year because they don't know how dangerous it is, because they don't talk to their doctors about it, they don't do anything about it. Yet deaths from prostate cancer are preventable if detected early enough.
Then it suddenly dawns. "Yeah, I sound a little like Johnny Cash," says Tony. A little? Even the spoken voice all the way from the Mouth of the Mokau has the resonant bass-baritone qualities of the Man in Black. Just trade the Kiwi twang for a southern drawl and 'voila'.
'Far from Folsom Prison, that's where I long to stay, Then I'd let that lonesome whistle blow my blues away.'
Tony and his guitar are on the main street of Katikati for six hours on Thursday, September 21 raising awareness about prostate cancer; raising a few dollars for cancer research in a kind of tribute street concert. Singing and talking. "The more I talk about it the greater the pressure on men around me to get themselves checked."
More on SunLive...