What's On: Zee Market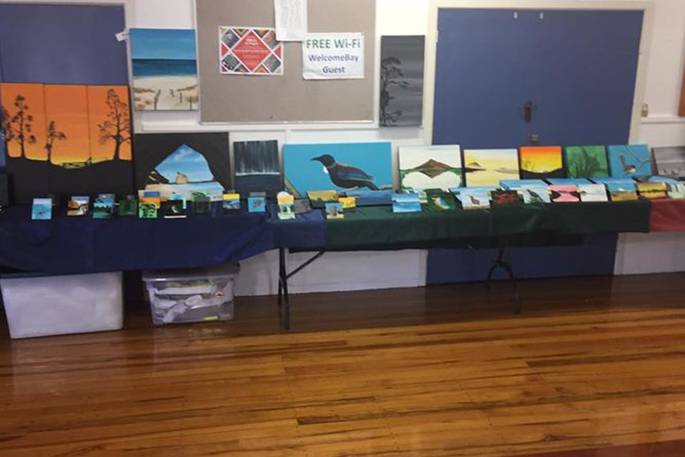 Click the image above to view slideshow
There's no buy, there's only D.I.Y when it comes to the craft market on Elizabeth Street.
Zee Market is an arts and crafts market supporting many talented stall holders and small businesses that create homemade gifts.
The market displays works like paintings, clothing, jewellery, woodwork and food.
"We have a huge arrangement of stalls to see and lots of fun for the kids and some really yummy food," says Zee Market.
"Come along to check out our range of interesting Stalls and meet our market family."
The market has free admission and is on today at 169 Elizabeth Street from 10am-2pm.
If the Zee Market doesn't sound like something for you, have a look at these other suggests:
Baycourt: Russian Ballett
A festival of Russian Ballet 8pm & Sun 2pm at Addison Theatre www.ticketek.co.nz or 0800 TICKETEK
Bird Rescue 101
Learn Bird Care is holding a hands-on Bird Rescue 101 workshop on 16th September. Limited number of attendees. www.learnbirdcare.org/training
Cambodia Trust Garage Sale
7:30-12:30pm Bethlehem, next to Rodney Wayne Hairdressing. Garage Sale to raise funds to for Neareay Primary School.
Come Dancing
16 Sept. TePuke Scottish Society 84th Maskerade Birthday Dance. Amazing supper, great band, friendly people. Join us for fun & entertainment. Valerie 573 7093
Czech/Slovak Club Tauranga
Czech School & Playgroup 10-12noon. Tauranga Boys College, Devonport Rd. Guests welcome.
Discover Life's True Purpose
Why am I here? How can I have a more meaningful life? Create an action plan that works. Starting soon. Info/register: www.eventspronto.co.nz/meaningfullife
Genealogy Informal Group
Discussions concerning family history research. Visitors welcome. $2 to cover afternoon tea. 1:30pm 849 State Highway 29, Tauriko. Phone Cathy 541 3335.
Katikati Lions Moggies Market
Katikati Memorial Hall, Main Road 8am-Noon. Enquiries 549 3589
Labour Pop-up Office Open
Tauranga Labour Party office open on Mon, Tues and Sat's from 10-4pm at 933, Cameron Rd,Greerton.labour.tauranga@mail.com
LOL Laughter Wellness
Laughter IS the best medicine. 11-11:45am Arataki Community Centre, Mt Maunganui. Koha. Call Trish 022 036 6768 email lollaughterwellness@gmail.com
Mt Maunganui Cricket Registration
2017/18 Junior & Senior Men's players can register at www. mountcricket.co.nz Registrations close 19 September 2017. email mmjc.membership@gmail.com for more info.
Revival Fire Healing Meetings
Join us at 7.30pm - Welcome Bay Community Hall 244 Welcome Bay Road, Tauranga. Hosted by Glory Release Ministries. FREE - All Welcome.
Sunshine Dance Group
Sequence dancing & socialising. Tea Dance Sat Sept 30. Baptist Church Hall, Cnr Cameron Rd & 13th Ave. 5-9pm. $5pp. Bring own food, plates & cutlery. BYO non alcoholic drinks.
TaiChi in the Park
Memorial Park next to Mini Golf on 11th Ave. No charge. 10am
Tauranga Friendship Social Club
Walks, dinners and outings for the over 50s. Couples & singles all welcome. Barbara 544 7461
The Sociables
30s/40s/50s age group of males & females that meet once a week to dine out or participate in activities & events. Ph: 022 012 0376
The Way Messianic Meetings
A community that teaches & practices 'One New Man' principles as outlined in scripture. All ages welcome.10am, Hillier Ctr, Mt Maunganui. Ph 021 0226 3515
TIRCCC Sept Race Day
16 Sept. Mt Maunganui Sports Centre. Track set up from 8am. Practice asap. Come down, have a look maybe pick up a new hobby. Email tirccc15@gmail.com
Village Radio Museum
Community Radio broadcasting nostalgic music & Community Notices seven days on 1368 KHz AM Band. Radio Museum open from 10am. Request line 571 3710.
Well-Being For Women
Join us to experience the power of shared discussions on a wide variety of women's health & life topics. For info: Ingrid 021 952 690 Jeanette 07 579 2373
More on SunLive...