The ins and outs of a toy library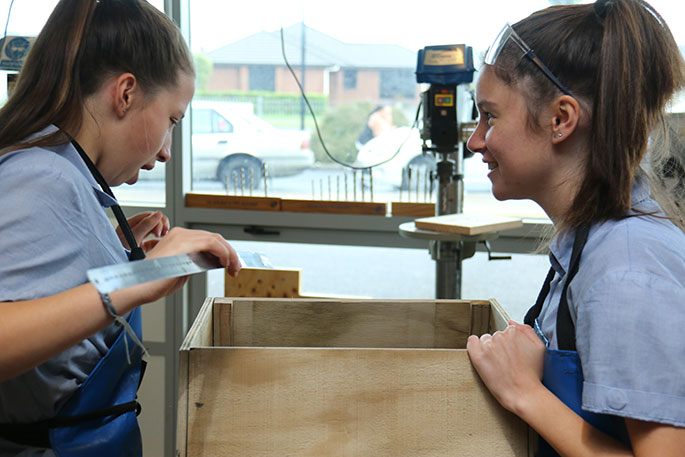 Click the image above to view slideshow
Stronger, better, new generation and they could be on the beach in about a month.
They're six or so brand new beach toy boxes, or toy libraries as they have become known, and they're a work in progress at Papamoa College.
"They're in flat packs of pieces at the moment," says technology teacher, Mike Wright. And should be off the production line in a week or so.
"We looked at the original beach libraries the students built a couple of years ago – they're starting to fall apart or have gone completely," says Mike. "Then we looked at what things worked well and didn't work well and then we tried to build a new generation that is better than the old one."
The beach libraries are so-called because they hold beach toys – balls, buckets and spades - that kids can borrow and play with on the beach and then return when they leave.
"Once students get past Year 9, or age 13, they move on from designing things for themselves to things that would benefit the whole community. So they have to consider what other people may want or need and not just themselves.
"And they love to do this, it works better for students," says Mike. "We have built little book libraries for outside kindergartens, toys for kindergartens and planters for various organisations to grow vegetables in."
When they are designing and building things for themselves, things they don't want or need, it can be an issue. But when they see the pleasure their efforts bring to others, it's very rewarding. "Like the kindergarten projects," says Mike.
And it's not just a woodwork project. "It's problem-solving. We give them a problem and no solutions. And working in teams of two or three students they design and build something that will ultimately benefit someone.
"The woodwork skills are just an aside. They're the skills they need to do the important stuff which is the problem-solving." They made model card versions of the toy boxes, figured how they would come together and now they're in the middle of the building stage.
So there's a lot more to the Papamoa College toy libraries than beach balls and buckets and spades and frollicking in the shallows.
More on SunLive...