Farm St developer appeals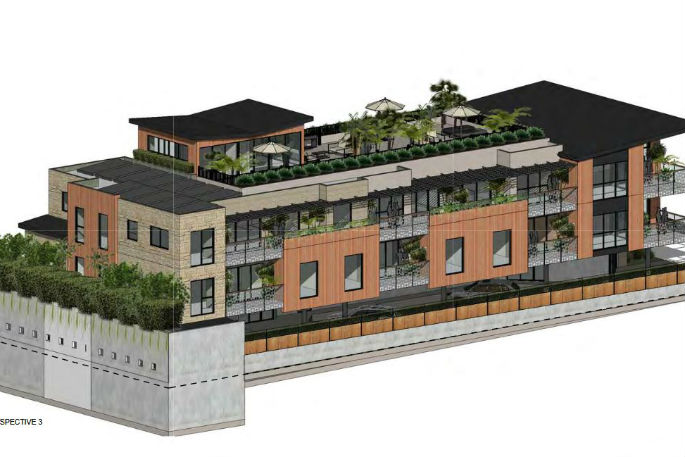 Farm Street developers are appealing a hearings commissioner's decision to disallow a three story commercial/residential development in a residential zone.
The development was supported by city council planners but denied by Commissioner David Meade because of a number of breaches to the Tauranga City Plan.
There were objections from 41 neighbours, many from nearby Leander Street, who opposed the development because of its size and effect on their amenity.
The proposed building breaches set back distances from boundaries, it is built over existing sewer lines, and over height and overshadowing rules are breached, say Dean and Caz Muller on behalf of the neighbouring Farm Street Medical Centre.
The Tauranga District and City plans set the rules for urban living; set back distances from boundaries, distances from a sewer lines, heights, overshadowing, car parking, storm water collection and discharge, maximum square metres of building compared to land area.
In an earlier report developer Sue McArthur says they presented the plan which was approved by city council planning staff on the basis of the city council's 'aspirational documents' the Compact City Project and the BOP Regional Plan, all of which talk about Tauranga intensifying development within existing boundaries.
"We felt this development would fit very nicely with what they want to achieve," says Sue after the decision was announced. "We've done research into what constitutes good place making, and felt what we proposed was going to fit very well."
Objectors are concerned that if approved in its current form the development will create pressure to approve other non-complying developments in the future, with 'cascading' effects.
Neighbours objected to the size and scale of the building, with the objections upheld by Hearings Commissioner David Meade, who refused consent following a hearing.
Now the objectors have to register their continuing interest as the appeals process goes to Environment Court mediation.
Architect and Farm Street resident Steve Bird says the city council has to communicate with the residents if it wants to change the look of the city.
"The City Plan is what they have to work with," says Steve. "It's been there for a long time and hundreds and thousands of people had input into that plan. Until such time that plan gets changed, that's what we have got to work with.
"They really need to get the whole community to talk about it and start to discuss, 'do we really want to keep doing what we have been doing for the last 20 years or are we going to do it a different way'.
"They need to bring everyone along with them.
"I just get really frustrated when everyone has got to work with what we have got at the moment. Some people at the council have a different agenda and they are not communicating it to anyone else."
When people feel they that are not being given a say, that's when heels get dug in and it becomes really difficult to get people to move on positions, says Steve.
"They need to get the community on board, there's no other way round it. It's just going to be a process that they have to work through."
Tessa Blackett says the developer's appeal is largely opposing the Commissioner's call for a substantial re-design of the building at the Leander Street end.
"They just want to the court to give consent for it as is, they haven't put in any new plans or anything," says Tessa.
"The commissioner was saying our zone, the amenity of the area for Leander St properties, we have a reasonable expectation that the district Plan maintain those qualities; of living environment, spaciousness, building separation and privacy and limited over-looking. At our end being all residential that's fair enough."
The appeal has turned out weird for the city council says Tessa. It was the city council planner that supported the developer's application. Now it is the developer vs the city council.
"Because it was their planner that had recommended granting resource consent, now the council has to do an about turn and uphold the commissioner's decision which was refusing the resource consent."
Developer Sue McArthur was unable to be contacted for comment.
More on SunLive...