Waihi arson attack 'infuriating'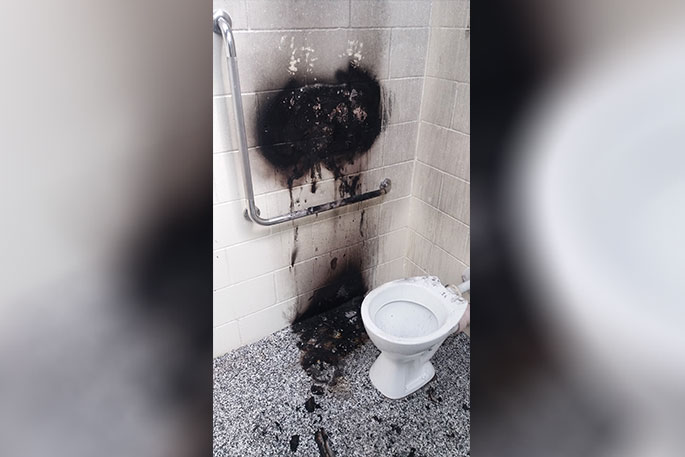 We've all experienced a burning desire to visit the toilet, but a recent arson attack on the men's public toilets at Victoria Park Waihi (aka Rocket Park) is completely baffling, pointless and infuriating, says Waihi Ward Chair Max McLean.
Toilet paper set alight in the disabled men's cubicle on Wednesday afternoon has caused extensive damage and the temporary closure of the toilets for cleaning and repair.
The women's toilets are unaffected and remain open.
Councillor McLean said ratepayers bear the brunt of the clean-up and repair costs and there's also a wider cost to visitors and the community.
"This isn't the first time these toilets have been vandalised, it happens too often. We want people to stop in Waihi and enjoy a positive experience, not find public facilities ransacked and closed due to vandalism. It's a real inconvenience to visitors and it reflects badly on our district."
Hauraki District Council Group Manager Community Services and Development Steve Fabish says each time this type of incident occurs it costs ratepayers approximately $6,000 for repair work and alternative portaloo facilities.
He expects it will be `business as usual' for one of the cubicles by Tuesday next week, but the disabled men's cubicle will be out of action until further notice.
Councillor McLean says the vandalism took place in broad daylight on a busy afternoon in town, and if anyone has any information that might help they should contact Police.
"This type of destructive behaviour has a significant impact on us all, and the best way to stamp it out is to work together, be vigilant, and refuse to accept it as a community."
People should call the police if they spot any suspicious or potentially destructive behaviour.
More on SunLive...