REVIEW: A most 'bewitching' show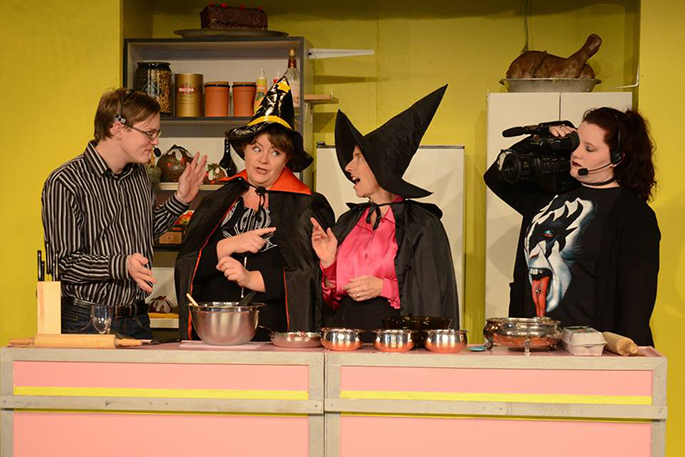 Have you ever been part of a live studio audience?
That's the experience on offer at Detour Theatre's latest show, 'The Kitchen Witches'.
The play, by Canadian playwright Caroline Smith, is set on a television cooking programme.
Two minor celebrity chefs are compelled to team up for the eponymous show, which is intended to attract audiences as much for a glimpse of the chefs' bickering rivalry as it is for the recipes on display.
The conflict between the two chefs, Isobel Lomax and Dolly Biddle, stems from their relationships with the same man, Larry Biddle, who dated one and married the other.
Larry's long gone by the start of the play, but the women are still trying to outdo one another for his favour – as well as that of his son, Stephen Biddle, who suffers as the show's producer.
The cast is small in this play – only three characters of note, plus gloomy cameraperson Robb (played stoically by Detour stalwart Alex Gilmour).
Many of the play's great moments come from Isobel and Dolly, played by Lisa Thorne and Kim Williamson, respectively. Their slick repartee and comic timing bring the characters to life.
It's a delight to watch these two experienced actors on Detour's stage once more.
Stephen Biddle's uptight nature and constant fretting is emphasised to great comic effect by Quentin Pidduck, although some of the character's more emotional moments could be played with greater spontaneity.
The set design, as usual in a Detour show, is visually impressive in its bright colours and attention to detail.
Director Devon Williamson has taken advantage of the play's setting to provide the audience the double pleasure of being both a theatre audience and part of the 'live' studio audience for 'The Kitchen Witches'.
Entrances and exits make clever use of the space, and the fourth wall is broken a couple of times.
It's an entertaining change from the typical theatre experience, of watching a play in stony silence punctuated by a communal guffaw (if it's a comedy).
The script has been tweaked to give locations and jokes a distinctly Tauranga flavour, so audiences can be sure to see an unrepeatable performance. However, with a shorter season than usual, it will pay to get in quick.
'The Kitchen Witches' runs from September 7-22 at Detour Theatre in the Historic Village. Tickets are $27 for adults or $22 for seniors/students from iTicket.
More on SunLive...