Irma passes north of Tauranga couple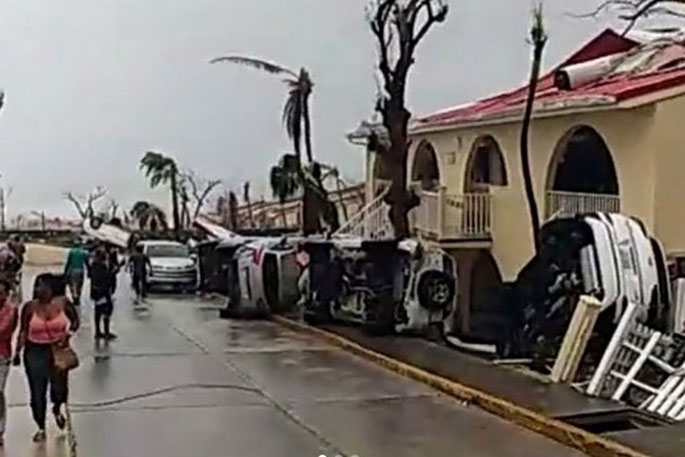 Click the image above to view slideshow
There's no news today of the Tauranga couple Donna Bennett and Chris Isherwood who are on the Caribbean Island of Vieques, Puerto rico.
The category 5 Hurricane Irma passed over last night, with the eye to the north of the island.
Donna, the former training officer for Tauranga Volunteer coastguard and Chris the deputy harbourmaster, left Tauranga in April to spend a year on the island.
Vieques is between the main Island of San Juan and the British Virgin Islands.
On Facebook yesterday, Donna says they were going to keep friends updated as best they can, but they also expected to lose power.
At least two people had been killed on the islands of Saint Martin and Saint Barthélemy, says French overseas territories minister Annick Girardin on BBC/Reuters
"We're talking about two dead and two seriously injured for now. Obviously the situation can change very quickly," says Annick.
The Category 5 hurricane, the highest possible level, has sustained wind speeds reaching 295km/h.
Some 40,000 people live in the French part of Saint Martin, with around the same number estimated to live on the Dutch side. About 9000 people live on St Barts.
WOW! Hurricane Irma with winds of 185 MPH seen today from the International Space Station. Video via @Space_Station #Hurricane #Irma #Space pic.twitter.com/RCbhwVtk9L

— Mark Tarello (@mark_tarello) September 7, 2017
In the Dutch territory, known as Saint Maarten, the airport has been closed with photos showing debris strewn across the departures area and outside.
Dutch news reports a total power blackout, streets littered with debris, cars underwater and boats in the ports destroyed.
The French government is launching an emergency plan but it was vital to assess the damage, because at this stage authorities could not get access to the worst-hit areas.
The French government had said it was worried about thousands of people who had refused to seek shelter on the islands as the powerful storm approached.
At 9am today heavy rain and strong winds begun hitting the island nation of Puerto Rico on the northeastern coast.
Irma has hurricane-strength winds extending at least 60 miles and those of a tropical storm, some 175 miles.
More on SunLive...