Maori prophet to receive pardon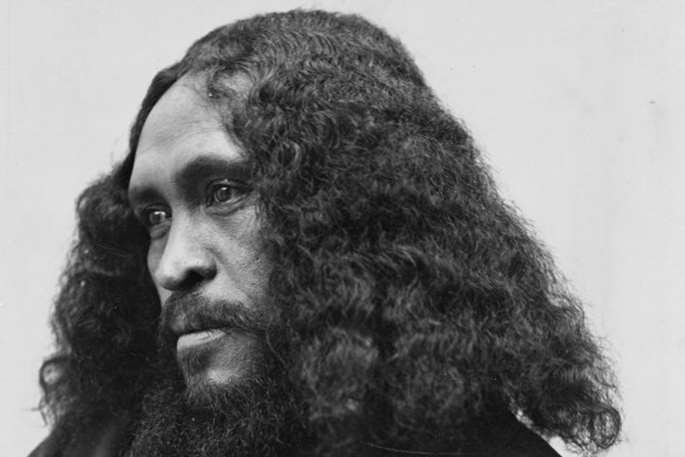 Click the image above to view slideshow
Maori Development Minister Te Ururoa Flavell has released a summary of an agreement which will progress a statutory pardon for Tuhoe prophet and leader Rua Kenana.
The Crown and descendants of Rua Kenana and Nga Toenga o nga Tamariki a Iharaira me nga uri o Maungapohatu will sign the agreement at Maungapohatu on Saturday September 9, bringing the statutory pardon a step closer to reality.
The minister and whanau of Rua Kenana met in Rotorua on Wednesday ahead of the historic signing to outline details of the agreement.
"The agreement contains much more than the pardon. It acknowledges the lasting effects the events of April 2, 1916 had on the descendants of Rua Kenana and Nga Toenga o nga Tamariki a Iharaira and apologises for that," says Te Ururoa.
"It is what his uri and followers of the Iharaira faith deserve. It goes some way to putting right a wrong from a century ago."
The Agreement notes the Crown's intention to introduce legislation to provide, among other things, a Crown apology to the descendants of Rua Kenana and Nga Toenga o nga Tamariki; a pardon to Rua Kenana for the conviction he sustained for 'moral resistance' to arrest; and a declaration to restore the character, mana and reputation of Rua Kenana, his uri (descendants), and Nga Toenga o nga Tamariki a Iharaira.
The statutory pardon for Rua Kenana will not be made official until legislation enacting the terms of the agreement is passed by parliament. It is a pardon for the criminal conviction.
Once passed into law the statutory pardon will be only the fourth arising from Crown-Maori relations.
In 1988, those of Ngati Awa descent who were arrested, tried and labelled as rebels in or about 1865, received a statutory pardon in the Runanga o Ngati Awa Act; in 2013, Mokomoko received statutory recognition of a previous Royal Prerogative of Mercy pardon for his involvement in the murder of missionary Carl Volkner in 1865, and in 2014, Kereopa Te Rau also received a statutory pardon for his role in the murder of Reverend Volkner through the Treaty settlement with Ngati Rangiwewehi.
Background
On April 2, 1916, a contingent of 70 armed police invaded Maungapohatu to arrest Tuhoe prophet and leader Rua Kenana. In an exchange of gunfire, his son Toko Rua and Te Maipi Te Whiu were killed and other Maori and four police were injured.
Charges laid against Rua Kenana over the invasion were either dismissed or resulted in his acquittal, but he was sentenced to 18 months imprisonment on an earlier charge of 'moral resistance'. The Iharaira faith went into decline after the events and has never fully recovered.
The Waitangi Tribunal in 2012 determined that excessive force was used in the arrest of Rua Kenana and it was unlawfully carried out as it was on a Sunday.
More on SunLive...