Overcoming second day breakage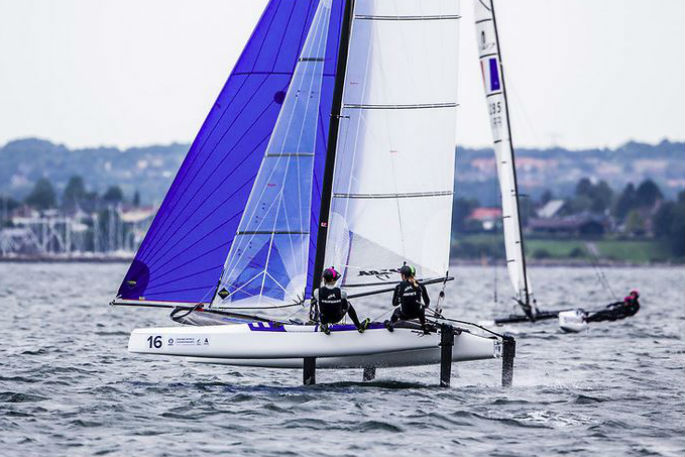 Click the image above to view slideshow
Gemma Jones and Tauranga sailor Jason Saunders slipped in overall standings at the Nacra 17 world championships in France overnight after breaking gear in their third race.
The Kiwi pair broke an outhaul off the start line in the third race.
They had to stop and fix the problem, but recovered well and made their way through the fleet to finish seventh.
It came on the back of a 14th in their first race, which is presently their discard, and a third.
They are seventh overall after two days at the world championships.
Jason and Gemma finished 14th in their first race sailed in 8-9 knots, and it wasn't the end of their problems.
"It was a little bit of a tough day for us today," says Jason.
"Unfortunately, we didn't have our best first race in pretty light and shifty conditions but we had a really good second race when the breeze got up a bit more and we had some good speed and a nice start.
"We were trying to do the same in the last race but we broke our outhaul system just after the start so we had to stop and fix it. It meant we started far behind everyone but we did a really nice job to come back and get up to seventh. We had two keepers and an average one but we are reasonably happy.
"The points are pretty close and we just have to have one more consistent day tomorrow and get into the gold fleet and then push on from there. We are pretty happy with the way we are sailing. We just need to tidy up in a few little areas and I think we can try to push for a podium for sure."
Gemma and Jason were third after the opening day, after getting over their gennaker being banned for upwind sailing.
The Nacra 17 class has gone through massive change in the last six months as it moves into foiling. The decision to ban the use of gennakers upwind was made two days out from the start of the world championships.
Jason and Gemma received their boats a couple of months ago, and had been using a gennaker sailing upwind. A number of teams protested this before the world championships started. It was put to a vote and gennaker use upwind is banned.
"We had been mastering our technique in these conditions with the gennaker upwind so it was a bit of a shock to have it banned," says Gemma.
"We were a bit nervous today going out because we had no idea how it was going to go because it was the first time we had tried it [without the gennaker] today.
"We just wanted to hang in there and not throw it away on the first day and get some solid, consistent results which is what we did, so we are happy."
Two days in and it is incredibly tight at the top with only six points between second and 10th. The Danish pair of Lin Ea Cenholt Christiansen and Christian Peter Lubeck, who won the recent world championships test event in Aarhus, hold a six-point lead over Ben Saxton and Katie Dabson of Great Britain in second.
"It so close on points so it will come down to gold fleet racing when anything can change," says Gemma.
The teams are scheduled to have three more qualifying races overnight before the top half of the 47 boats move through into gold fleet.
That is the aim of Olivia Mackay and Micah Wilkinson, who moved up four places overnight to 18th. The young duo show they are getting to grips with their new foiling catamaran - they took possession of the boat three days before the start of the world championships - when they finished second in their first race overnight.
Similar conditons are forecast for tonight, with a light breeze giving way to stronger winds later in the day which will challenge the teams who are all trying to get to grips with the new foiling Nacras that will be used at the 2020 Tokyo Olympics.
Results and standings at the Nacra 17 world championships in La Grande Motte, France, overnight (NZ time):
1st: Lin Ea Cenholt Christiansen / Christian Peter Lubeck (DEN) (12) 1 1 3 4 4 - 13 points
2nd: Ben Saxton / Katie Dabson (GBR) (6) 4 2 6 5 2 - 19 pts
3rd: Ruggero Tita / Caterina Banti (ITA) (12) 2 10 6 1 2 - 21 pts
7th: Gemma Jones / Jason Saunders (NZL) 3 5 4 (14) 3 7 - 22 pts
18th: Olivia Mackay / Micah Wilkinson (NZL) 7 11 (16) 2 14 10 - 44 pts
Pic: Gemma Jones and Jason Saunders are well placed after two days of the Nacra world championships in France. Photo: nacra17.org
More on SunLive...