Sharpshooting student aiming high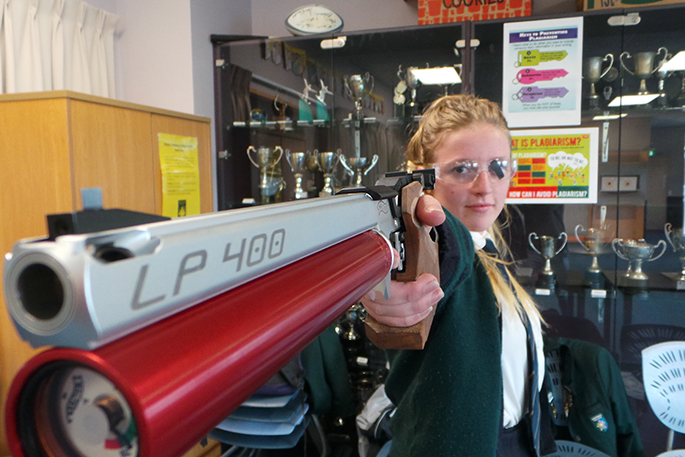 While most high school students might play rugby or netball after school, for Loretta Knights there's a different kind of sport calling her.
It's air pistol shooting – and the Year 13 Aquinas College girl is very good at it.
She says she first gave it a go a couple of years ago, thanks to a friend, and has been hooked ever since.
"I like the social aspect. I've become friends with people in different year levels who I normally wouldn't have met," says Loretta.
"You improve heaps as well, and it's really easy to see your development."
The pistols she uses are fired by compressed air, or occasionally carbon dioxide. The tiny lead pellets they shoot travel around 400-450 feet per second – enough to take out your eye, if you were standing in the wrong place.
Loretta's eagle eye and steady hand has secured her a spot on the national team representing New Zealand at the Oceania Shooting Federation Continental Championship in Brisbane at the end of October.
She'll be competing in the junior women's (under 21) section, with two other girls also going from Whangarei. Already she's been up north to train with them and Commonwealth Games gold medallist Greg Yelavich.
Loretta's mum Evelyn – who also teaches Maths at the college – is proud of her daughter's accomplishments, and impressed by the school's shooting club, which has around a dozen student members.
"The kids are taught the safety side of handling pistols, too, which is very important," she says. "At the moment they're training twice a week in preparation for the McMillan Cup."
That's the secondary school air pistol shooting competition, named after Bruce McMillan, the first pistol shooting athlete to represent New Zealand in the 1972 Olympic Games in Munich.
The Aquinas College students are coached by John Peacock of the Tauranga Pistol Club, who says Loretta's been a good shot from the moment she picked up a pistol.
"But you always have to work at it," he adds – hence the biweekly practices.
The trip to Brisbane is something Loretta admits she never imagined possible when she started shooting, but it comes with a hefty price tag – the entry fee into the Oceania Games is $350 alone.
So to fundraise she's organising a special screening of action film 'Kingsman: The Golden Circle', which fans will know is an appropriate choice for a pistol shooter. Tickets to the September 21 screening at Rialto are available to purchase with cash from the Aquinas College office, or email Evelyn Knights at eknights@aquinas.school.nz
More on SunLive...