Street art boosts Tauranga economy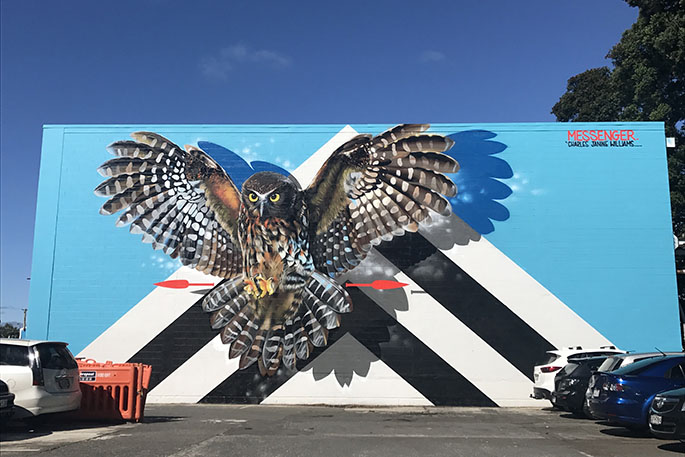 Click the image above to view slideshow
Tauranga's inaugural Paradox Street Art Festival injected $1.2 million into the region from visitor spending, generated 10,170 visitors to Tauranga and expanded the region's GDP by $691,000.
The festival, held from March 28 – June 15, was developed by Tauranga City Council in partnership with Oi YOU! and Tauranga Art Gallery.
An evaluation commissioned by Tauranga City Council of the street art festival's impact on tourism and GDP shows that the regional return on investment for Paradox was 293 per cent. Council's investment into the festival was $115,000.
"The interest in this festival far exceeded our expectations. Paradox was created for the whole community to enjoy and we're proud to have supported it," says Mayor Greg Brownless.
The festival consisted of three parts:
• Paradox Inside at Tauranga Art Gallery with a major street art exhibition, including the Oi YOU! Collection, which features the most extensive works of street artist Banksy in the Southern Hemisphere.

• Paradox Outside with eight large murals on iconic walls of the city centre.

• Paradox Live and Local – the 12-week events programme that engaged with our communities, and especially with youth.
Paradox resulted in a record of 49,180 visitors visiting the art gallery, with 52 per cent of those from Tauranga and 48 per cent from outside of the city.
"As far as we know, Paradox was the first time that a municipal art gallery in a major city in the Southern Hemisphere has been given over to street art, and it proved how successful this could be," says Tauranga Art Gallery director Karl Chitham.
"It's unusual for a gallery to have lines of people waiting to come in for an exhibition, and this gave an incredible boost to the energy in the CBD."
Economic development and investment committee chair Max Mason says the whole community should feel proud of the contribution Paradox has made towards transforming Tauranga's city centre.
"Paradox added to the city's vibrancy and made our communities incredibly proud," says Max. "Festivals like this position Tauranga as a vibrant, creative and internationally competitive city".
Key results of the evaluation:
• The Festival attracted 10,170 visitors to Tauranga, including day visitors from surrounding regions. These visitors generated 7630 visitor nights in Tauranga, with each visitor staying an average of 0.75 nights in the region (including day visitors who did not spend any nights in the region).

• The Festival increased Tauranga's regional output by $1,063,600 excluding GST. This was made up of a net outflow of $138,000 through the organisation and delivery of the event (meaning the amount of event income sourced from within Tauranga was greater than the amount of money spent in Tauranga to deliver the event) and a net inflow of $1,201,000 through expenditure by visitors to Tauranga.

• The increase in regional output of $1,063,000 resulted in an increase in regional GDP of $691,000. This represents a return on regional investment of 293 per cent, calculated as $691,000 (the return over and above the initial investment) divided by $236,000 (the region's investment in the event). This means that Tauranga recovered each dollar it invested in the event plus an additional $2.93 per dollar invested.
More on SunLive...