Record and gold medals for Greerton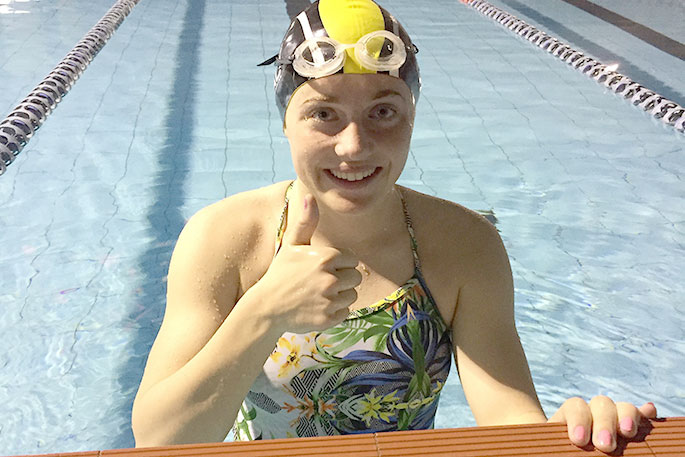 Click the image above to view slideshow
The calibre of Greerton Swim Club swimmers remains high, with two more wins secured by its athletes recently.
New awards were won for the club at various events over the country, including a New Zealand record breaker title in Auckland and a gold medal win in Rotorua.
Greerton Swim Club swimmer Tessa Bradley, 17, celebrated a New Zealand record breaker in her heat at the Northern Region Surf Lifesaving Pool Championships.
She took out the award for fastest female in New Zealand in the 50m swim with fins with a time of 19.87 minutes.
Her mother, Wendy Bradley says that the event has always been a strong one for Tessa.
"This is her first record of any sort, but for it to be a New Zealand record is a massive achievement."
Until now the open record has been held by Bay of Plenty swimmer Natalie Peat who had a time of 19.99, which she won at the World's event in the Netherlands.
Wendy says Tessa's feat of this title is a huge victory.
"Tessa was definitely under the current record," she says. "It wasn't point two of a second that she beat it by it was a lot more than that which makes it a lot better."
She says that Tessa's training for last weekend's event has been a lot of hard work, which has also included being selected for the Bay of Plenty Surf Lifesaving youth team.
Louis Fitzjohn, Lochlainn O'Connor, Travis Hudson and Connor Farrell win gold in the 13-year old and over boys 400m medley relay. Photo: Greerton Swim Club/Facebook.
The team will compete in a 3 day competition at the International Surf Rescue Challenge, which is happening in the mount at the end of November and brings in competitors from more than four countries.
"She trained all through summer, but she's been training quite hard since March to ensure she made the team," says Wendy.
"Another challenge she's set herself is that she's trying to make the youth team for the world championships next November in Adelaide."
Wendy says Tessa is pleased at her victory.
"She was very pleased, it was very tough and she'd worked quite hard," she says.
"She sets herself little goals and potentially she may have excited what she expected she could do."
In Rotorua, Greerton Swim Club quartet Louis Fitzjohn, Lochlainn O'Connor, Travis Hudson and Connor Farrell also gained a win, securing a gold medal in the 13-year old and over boys 400m medley relay swim at the Central Swimming Championships.
The competition attracted swimmers from the Bay of Plenty, Hawke's Bay/Poverty Bay, Taranaki and the Waikato.
Age group placings were decided on the morning heats with the fastest 8 swimmers overall progressing to the A final with B and C finals also contended.
A highlight for the seventeen strong Greerton team was the win in the male 400m medley relay.
Lead off backstroke swimmer Louis had the team in second place before Travis stormed to the lead, swimming a 1:08.97 breaststroke split to lead narrowly from local team Swim Rotorua at the half way point.
Lochlainn then consolidated the lead through the butterfly with Connor splitting a 55.65 freestyle for the win ahead of Rotorua and a fast finishing Enterprise Swim Club from Gisborne.
The competition saw other relay successes from the club with two further silver medals.
In the 400m freestyle relay Aidan Heath (59.45), Lochlainn (54.05), William Armstrong (1:00.14) and Connor (55.62) snatched silver from Rotorua with Enterprise taking gold.
Aidan, Travis, Louis and Connor combined well again in the shorter 200m medley relay, but the title was gained by an impressive Otumoetai team.
Greerton Swim Club chairman Michael Pugh says the boys showed true stamina and endurance in their races.
"A big highlight was Louis Fitzjohn who won the 13-year old boys 400m individual medley event ahead of teammate Thomas Wilkinson," says Michael.
"That evening he also went on take down Olympian Kane Radford's BOP age group record in the open final, clocking 4:56.20."
He says that Travis Hudson was the Greerton swimmer of the meet.
"Travis had an outstanding meet, complementing his relay gold and silver with three individual medals in the 50m, 100m and 200m open A breaststroke finals," he says.
"Along with this he also gained an age group gold in the 50m and 100m freestyles."
More on SunLive...