A year's rain in 8 months, more to come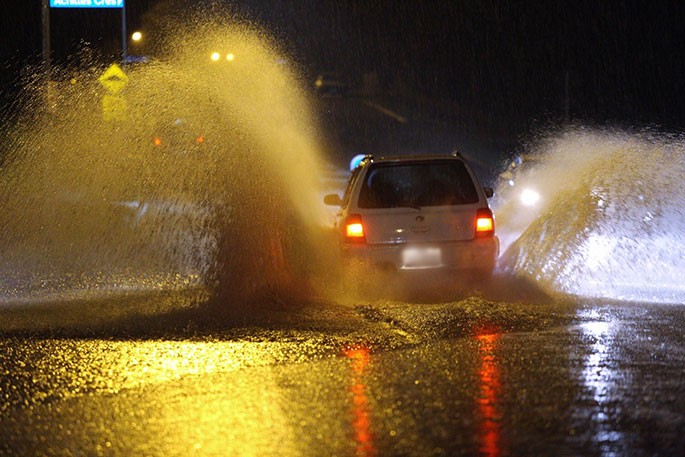 Tauranga has already has it annual quota of rain, in just eight months, but there is still more to come.
Nearly 1400mm of rainfall has already been recorded for the region for the year to date, a figure which already shows up last year's total rainfall of just over 1200mm.
The MetService says regions in the west and north of both Islands recorded above normal rainfall last month, particularly in the Bay of Plenty, Taranaki and Taupo.
Wellington, Nelson, and most of the West Coast in the South Island also recorded higher rainfall than normal.
MetService meteorologist John Law says the Tauranga area has seen plenty of rain this year.
"It's been a very wet year so far in the Bay of Plenty.
"In August our monthly rainfall was 159mm, a fair bit more than average, which would usually be expected to be around about 117mm."
He says most of this rainfall occurred in one day, towards the end of August where about 79mm of rainfall fell within only a few hours.
Following that, another burst of rain was recorded earlier this month, with 81 mm of rainfall.
Nearly 1400mm of rainfall has been recorded in Tauranga this year. Photo: MetService.
"Our average for the whole of September is only about 93mm, so we're already well up on what we expect to get and we have plenty more to come," says John.
Radio New Zealand also report that Auckland is heading for its second wettest year on record, with more storms and rain on the way for most of the country.
National Institute of Water and Atmospheric Research forecaster Ben Noll says that Christchurch had had almost four times the rain this winter than last, while Auckland was tracking for the highest rainfall since its wettest year on record in 1979.
This year's weather has been partly due to warmer than average sea surface temperatures around and to the north of New Zealand, increasing the amount of water vapour in the atmosphere.
"It can influence storms, as they track over these warm waters and then often can dump rain on New Zealand.
"So patterns in the ocean and atmosphere are working together to create what has been a very wet start to the year so far."
Ben told Morning Report storms would continue to track in from the north over the next three months.
A heavy rain watch has been issued from midday tomorrow through to early Thursday morning, for ranges of Eastern Bay of Plenty and Gisborne areas.
"It's not for the areas of Tauranga and Whakatane - although there will be some wet weather and stronger winds for the area in the next couple of days," says John.
"The worst of the weather will be up in the ranges to the east of the region – right up in the boundary between Bay of Plenty and Gisborne."
"It's going to be wet and it's going to be windy, the rain is spreading in over the next few days so it's definitely worth keeping an eye on the forecast."
Northerly winds are set to push rain into the Bay of Plenty area and weather looks to be unsettled through to the weekend.
More on SunLive...