Graffiti artists brighten up bus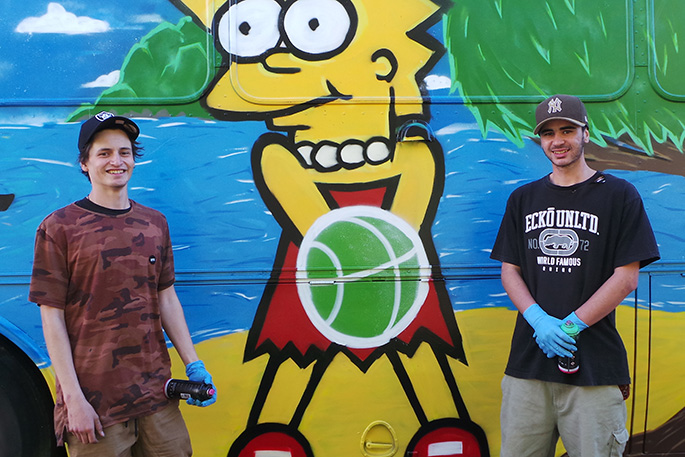 Click the image above to view slideshow
A couple of graffiti artists have been using their spray cans for good this weekend, putting the finishing touches on a very original bus paint job.
Sega, 21, and his friend Falcon, 17, were down at the Whareroa boat ramp beside the harbour bridge on Monday, where they were completing the masterpiece begun late last year.
Sega says half of the bus was completed in November of last year. He started the second half on Friday, took a break during the heavy rain on Saturday, before finishing the piece on Sunday and Monday.
"I've always been into spray painting since college days," he says. "Out of all the categories of art, that's the one I chose. I enjoy how difficult it can be, with the different nozzles and styles needed to get the right effect."
He guesses around 50 cans of spray paint have been used on the bus, supplied by the owners Wayne and Serena Eltringham.
Putting the final touches on.
Wayne, who's originally from Te Puke, has been living in the bus with his wife for five years.
"I used to be a truck driver for 40 years, and I've seen more of the country in the last five years than I did when I was working," he laughs.
The bus used to be white with a blue stripe along the middle, but Wayne and Serena gave it a new paint job – all red. Daughter Lisa saw the colour, though, and wasn't a fan.
So she put her parents in touch with a couple local kids with a talent for graffiti art.
"Parts of it represent out family," says Wayne, speaking of the design. The bear on the back, for instance, is him – Papa Bear. While the Pink Panther acknowledges their son, who died of leukaemia.
"The rest of it's from the boys' imagination," says Serena. "I think they've done really well."
They have. And one thing's for certain: no one can say their bus is the same colour as the Eltringhams anymore.
More on SunLive...