Girls shine at football tournament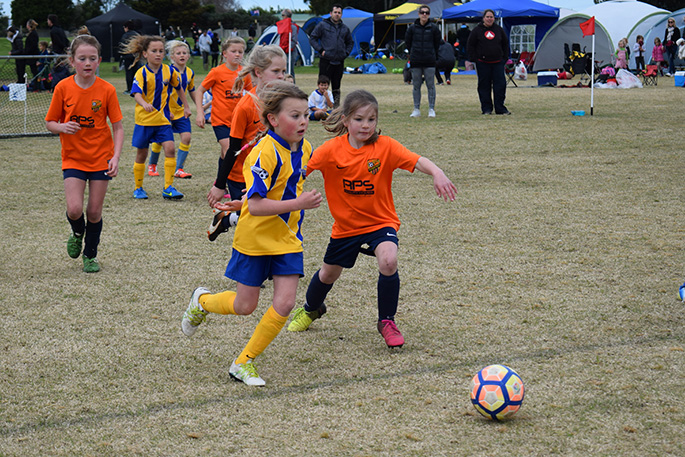 There was still a winter chill in the air on Sunday, but that didn't stop over 250 girls playing in the CAVIUS Junior Girls Football Tournament at Gordon Spratt Reserve.
The event, now in its second year, was hosted by Papamoa Football Club, and gives primary- and intermediate-age girls the chance to experience tournament play.
Papamoa Football Club girls' coordinator Sue Tilby says the tournament began as U8-only, before growing to incorporate U11 and U13 players this year.
"The clouds blew away and set the tone for an amazing day. We had teams from Te Puke, Rotorua, Hamilton, Cambridge, as well as teams representing all our local clubs.
"In mixed-team tournaments, girls are not necessarily in the top teams which go through. By having an all-girls tournament it gives them all the opportunity to play."
The Mount Mount Mamba's U11 took out group A, and the returning Raglan Seastars, who came first in the inaugural U8 tournament last year, claimed the top spot in the U11 Group B, with Papamoa Lynx in second place.
The tournament also hosted the U13 Girls Kaimai Challenge, which involved the top three teams from Western Bay of Plenty – the Mount Black Widows, Papamoa Wildfire, and Katikati Pink Lightning – battling the top three teams from Waikato.
Papamoa Wildfire took out the individual team battle in a tightly fought 1-0 win in the final, and Western Bay of Plenty took out the Kaimai Challenge region award with WBOP teams dominating.
Sue says it was a great end-of-season celebration, with some 'pretty good football' being played.
"Judging from the skill and performances shown yesterday, it is something worth celebrating and all the players need to be applauded. The sportsmanship ran true to FIFA's philosophy of playing in the spirit of the game."
A big thank you also goes out to CAVIUS Smoke Alarms, who came on board as sponsors.
"Without them we would not have been able to provide the girls with such an experience," says Sue.
Waikato team NUSC Glory and Papamoa Wildfire share a group photo after their final.
More on SunLive...