Face burned off in billboard attack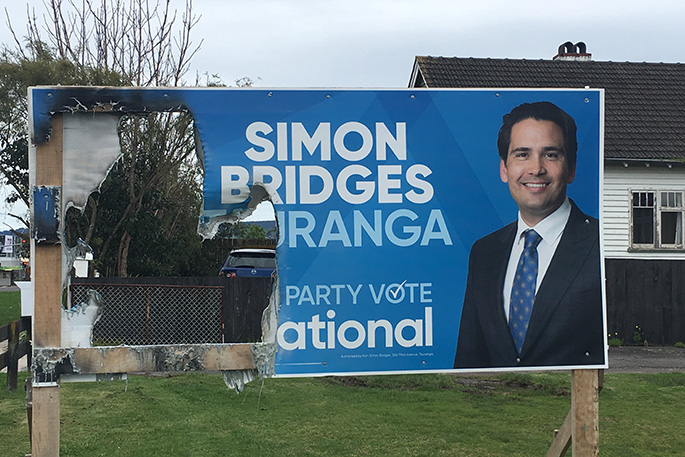 Click the image above to view slideshow
A National Party billboard in Tauranga has been set on fire, with the likeness of Prime Minister Bill English being burned clean off it.
The attack occurred on Saturday night, with a shocked passer-by taking photos and sending them into SunLive.
The man, who did not wish to be named, says he was walking past when he saw the burnt sign, which is on private property.
"I alerted the owner of the house, who hadn't realised it happened. She rang the police, who are going to investigate."
He says the fire attack is an extreme response to what was an innocuous sign encouraging people to 'party vote National'.
"I think it's going way too far. There was a beer bottle and tyre marks on her lawn – someone was probably drunk, pulled up, and set the sign on fire."
He says the family were concerned for the safety of their children following the fire, as the sign is quite close to their house.
Tauranga MP Simon Bridges says nothing surprising him when it comes to hoardings anymore, but he's concerned at this type of attack.
"We've had cut-outs, all the graffiti you can think off, but I think fire is a new one. In all seriousness, though, not only is that damaging to the sign, it also has dangers associated with it. Fire goes too far – that sort of behaviour is reckless and really dangerous."
Tire marks at the scene of the crime.
It's not the first act of vandalism against political hoardings in the city – last month SunLive revealed several National Party billboards had been targeted by a serial face-cutter, who was carefully removing the heads of Simon Bridges and Bill English for some unknown purpose.
If anyone does see this type of criminal behaviour, particularly arson, they should report it to local police.
More on SunLive...