Opueora dredging begins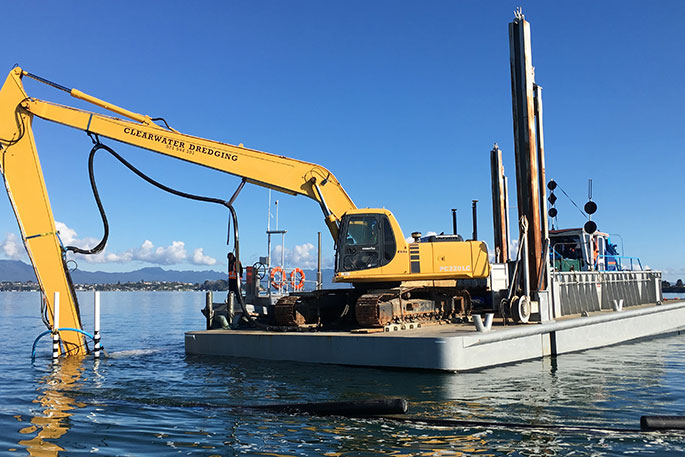 Click the image above to view slideshow
Dredging of the Opureora channel at Matakana Island is underway and expected to be completed in another month.
The dredging project being undertaken by the Bay of Plenty Regional Council is intended to improve low tide access to the Opureora wharf and jetty, says regional council communications advisor Harry Singh.
Hydra-care (NZ) and their subcontractor Clearwater Dredging is carrying out the work using a barge mounted excavator fitted with a cutter suction head.
Dredging started dredging from the southern end of the channel and is working north.
Sand from the dredging is being pumped to the Opureora Spit for dewatering and will then be used to re-nourish the foreshore, says Harry.
"Matakana Island residents are assisting with environmental monitoring. So far findings have shown that the only impact has been slightly reduced visibility within a few metres of the dredge head."
Dredging work has been planned to avoid interfering with normal boat access around the jetty, wharf and channel, however. The public are asked to keep at least 100m clear of the dredging barge and transfer pipeline except when passing.
It's expected the dredging will be completed mid-September.
The start of the job was delayed for a while with the contractor unable to obtain a dewatering cyclone.
Also delayed was the construction of the replacement ferry. Currently under construction by Shipco360 in Whangarei, the new barge is similar in appearance to the Matakana ferry Snookum, and is being built by the same company.
It's a double ender which will be able to carry two milk tankers – two truck and trailers, at once, instead of one.
It will carry 120 tonnes instead of 40, but it needs slightly deeper water at 1.5m loaded compared to 1.2m empty, but the current ferry draws 1.2m full, and it only takes one truck.
More on SunLive...