NZ First takes Tauranga's pulse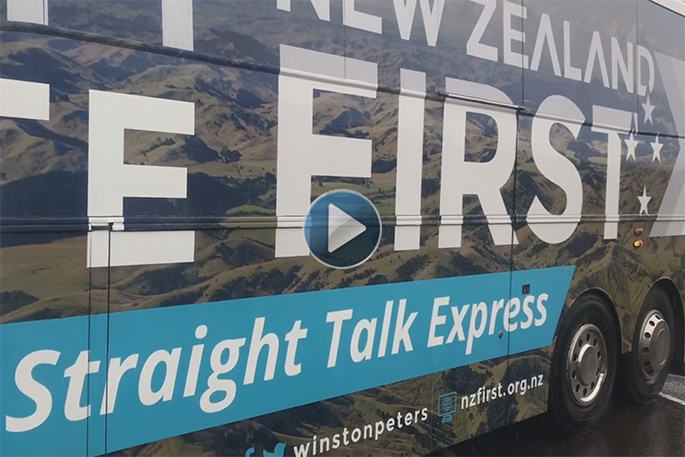 Click the image above to watch the video
New Zealand First has been finding out what matters to Western Bay of Plenty residents, with local candidates touring Tauranga and Te Puke in their distinctive campaign bus.
Tauranga-based NZ First MP Clayton Mitchell was joined by Bay of Plenty candidate Lester Gray and Coromandel candidate Anne-Marie Andrews on Saturday, braving the rain to deliver their party's message.
Clayton says they made around 11 stops from Te Puke through to Papamoa, Mount Maunganui, Tauranga central, Bethlehem, and Greerton.
"We had good feedback from people and positive responses. We managed to get a crowd of people talking and listening wherever we pulled up," he says.
"We had hoped to do some door knocking, but the weather didn't really permit for it. We'll do that next week."
So what was on the minds of voters who stopped to have a chat? In Tauranga, Clayton says it is housing affordability.
"People say they're not hearing anything from the two establishment parties about the effect of immigration and foreign buyers on housing. People know a lot of these houses are being bought up by overseas non-residents, but nobody's talking about it.
"The other big issue was traffic, and what we're going to be doing about the ever-increasing problem of congestion."
One of the most significant aspects of yesterday's tour was finding out just how many undecided voters are out there.
"There are people who've always voted a certain 'colour', and they're telling us they're not sure about voting for that party this time round. So they're genuinely interested in the policies of other parties and what they're pushing for."
He says Jacinda Ardern has created some interest as the new Labour Party leader, but believes Labour's policies to be too vague.
"In three weeks' time I think we're going to have an upset. The mainstream media over the last few weeks have given us very little oxygen, unless it's to do with Winston's repayments.
"People are getting sick of the backwards and forwards from the two main parties."
More on SunLive...