School buses to stay on some routes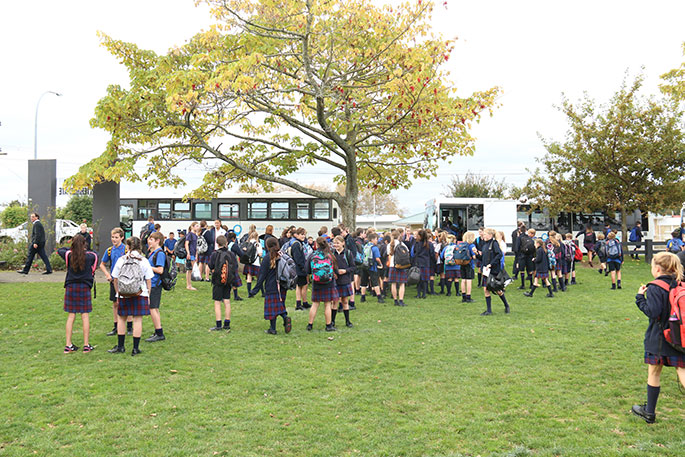 Click the image above to view slideshow
Some Tauranga school buses look likely to survive the changing bus contracts following recommendations adopted by the Bay of Plenty Regional Council Public Transport Committee.
The earlier proposal to ditch most school buses was revised following a public backlash.
New proposals have been developed for each of the affected schools.
The council says it wants to address concerns raised by schools and parents while looking for opportunities to encourage students to use BayHopper buses, walk or cycle to school. The proposals also including keeping school buses for Year 7-8 (intermediate) students.
Council staff are in the process of discussing feedback with most of the affected schools and asking them to identify improvements that can be made.
Schools will be asked if they would like the council to notify parents about the changes, or have meetings with parents to discuss the new proposals.
So far council staff and committee chair Lyall Thurston have met with four schools that say they want to further explore options and for council staff to meet with parents to discuss proposals.
They are Aquinas College, Bethlehem College, St Mary's Catholic School and St Thomas More Catholic School.
So far staff have met with the following schools that say they are comfortable with the proposals, subject to minor variations and would like to keep parents informed of any decisions.
They are Mount Maunganui Intermediate, Tauranga Intermediate, Otumoetai College, Otumoetai Intermediate, Tauranga Boys' College and Tauranga Girls' College.
Council staff have yet to meet with Maungatapu School, Papamoa College and Papamoa Primary.
Of the 290 students likely to lose their bus service, 80 will be eligible for Ministry of Education transport assistance; 100 are from Tauranga Girls' and Boys' Colleges, 40 from Otumoetai College and Otumoetai Intermediate and the remainder are from other schools. The majority of students who will no longer have access to school services are located on a direct public bus route to their school.
"After significant discussion and engagement with schools, we have now developed school-led solutions for five schools and are continuing to work with a further seven schools. During this time we are also continuing our discussions with the MOE and Tauranga City Council to ensure the school bus network addresses community feedback," says Lyall.
More on SunLive...